Tiles for swimming pool
How to choose this product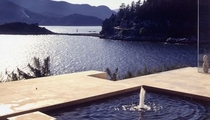 Swimming pool tile is characterized by its size and installation in the form of a checkerboard. It is very sturdy and impermeable. Grouting should be waterproof. A latex resin finish should be used to ensure watertightness.
Applications
Enameled or glass mosaic tile is normally used in residential settings because it is easy to install, even in pools with unusual shapes, angles or curved surfaces. It also offers a wide range of colors and motifs. Larger, ceramic tile is usually used in public pools.
Technologies
Glass mosaic and enameled tile often comes as squares two centimeters on a side. Ceramic versions are frequently much larger.
13 companies | 80 architectural and design products
2 products EMAUX DE BRIARE
1 products Kaleseramik Canakkale Kalebodur Seramik San A.S
1 products REVIGLASS,S.A.
Filter by :
› New products

(0)

› Products with video

(0)
Extend the search
Search by manufacturer
Search by catalog