How to choose this product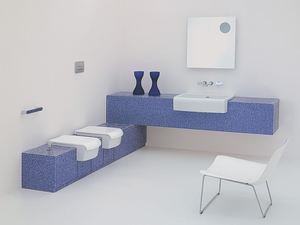 In addition to the standard white toilet attached to the floor, there are now numerous options for both residential and commercial use. The different configurations include portable and dry toilets, as well as those connected to the water supply. They may be freestanding, wall-mounted or embedded into the floor, as with squatter models.

On ArchiExpo, such products are categorized by properties including attachment method, type of use (e.g., professional) or special functions.
Applications
Toilet characteristics vary with setting. Public toilets often prioritize robustness, hygiene and ease of maintenance over comfort. They may lack seats or covers, or have automatic flushing to facilitate cleaning. Some are intended for special purposes. Elementary schools usually have small models. Some are designed for healthcare facilities or to meet local accessibility requirements.
Technologies
Flush toilets may be activated by a handle, a push button or a light sensor. Optional water-saving features include dual flush or even the reuse of water from the sink.
How to choose
Consider whether toilet operation and dimensions are suitable for the intended purpose. It may be necessary to choose between robustness and ease of maintenance, or style and comfort. For dry or composting toilets, check regulations and required maintenance. Determine how flush toilets will be connected to the water supply. If wall-mounted, evaluate installation method and the accessibility of plumbing for maintenance.