How to choose this product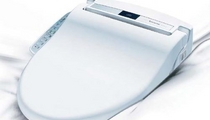 A toilet seat consists of a seat and a hinged lid. The seat offers comfort, while the lid closes the toilet when it is not in use. It can also be decorative, featuring different colors and motifs.
Technologies
These devices are made from ceramic, wood, vinyl, plastic, stainless steel, brass and other materials. There are antibacterial and heated models with temperature control for added comfort. Others have a presence sensor which controls the opening and closing of the lid and/or the flushing mechanism. Unusual features include a system to wash the user with warm water, with an automatic air dryer.
How to choose
Seat size and configuration must match those of the toilet. The unit should be of good quality, with materials, color and design appropriate for the toilet and bathroom. The comfort and possible special needs of some users also should be considered.
Advantages
- Hygiene
- Comfort