How to choose this product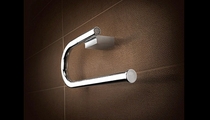 A towel rack is used to hang up towels for drying, normally in a bathroom, shower area or by a sink. It may be a wall-mounted or freestanding unit. In contrast to hooks, it holds the towel spread out, a neater arrangement which also speeds drying. Heated models hasten drying and warm the room.
Applications
Some of these devices include storage space, an integrated soap dish or dispenser. Certain models fold out of the wall.
Technologies
These racks are usually made from waterproof, corrosion-resistant materials such as stainless steel or plastic.
How to choose
Freestanding or wall-mounted, the rack should be placed within easy reach of the sink, shower or bath. Consider attachment method for wall units. Heated models will require a convenient connection to a power source. Racks in commercial and public spaces may have to comply with local building, health, safety or accessibility regulations.

Choose style as a function of the surrounding decor. A serpentine model can add a note of interest to a minimalist environment, while a rectilinear rack may be more appropriate in a space featuring bold straight lines.