How to choose this product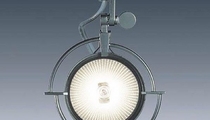 A track light is used to illuminate a particular area. It is often suspended from a ceiling or fixed flush to a surface. Several lights can be hung from a single fixed track or a cable. Light position is sometimes adjustable.
Applications
These systems are found in commercial and exhibition spaces to illuminate artworks or products, as well as in homes. They also are used on display boards, in showrooms, theaters and stages.
Technologies
While a basic track lighting system may be screwed directly to the ceiling, some types are suspended. Certain tracks are flexible, and can be used to create non-linear illumination.
How to choose
Consider how many areas need to be lighted and how powerful the lights must be. While halogen bulbs provide bright, high-quality light, they use more energy and last less time than LED or energy-saving lights.

Determine whether the individual fixtures will need to be aimed or moved along the rail. Number and voltage of lights must be compatible with the system. Another factor is aesthetics. Tracks are often highly visible, while cables can create the illusion of floating lights.