How to choose this product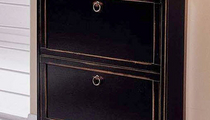 A traditional cabinet is a piece of storage furniture with doors. It normally has a familiar or standard form and is built using well-known construction techniques and materials. Its style is suitable for many different decors. On ArchiExpo, this furniture is arranged by properties such as use or material.
Applications
These pieces are used in homes for storing DVDs, tableware, media and office equipment, in addition to a wide range of other items. Some models have a glass front for display or other storage compartments, such as drawers.
How to choose
Consider how the form and finish accord with nearby furniture and what the unit will store. Determine sturdiness and maintenance needs. Laminate board finishes may be easier to clean, but can weaken considerably over time. Solid wood often requires regular refinishing and may be less suitable for areas with great variations in humidity.