How to choose this product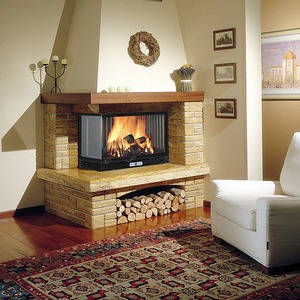 A traditional fireplace, open and wood-burning, plays a primarily decorative and symbolic role. Recent models with closed firebox manage to recreate an old-fashioned feel. This type of fireplace sits on the floor, nearly always against a wall. It usually has a stone or brick mantel with wooden cornice, shelf or other decorative elements. The rustic finish uses warm colors, offering unsurpassed ambiance.
How to choose
Choice will depend on location and configuration (wall, corner, two- or three-sided), open or closed firebox, fuel type (wood, gas, bioethanol, electric or mixed) and mantel characteristics, including finish material (marble, stone and wood are most common), color and texture.