How to choose this product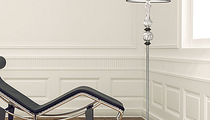 A floor lamp is tall, sits directly on the floor and can be moved easily from place to place. The traditional version is characterized by simple forms and neutral colors. It often has floral motifs, including finely executed, elaborate decoration. Wood, bronze, wrought iron and crystal are commonly used in its fabrication.
Applications
These lamps can be used for direct or indirect illumination of varying intensity, either as a primary or supplementary lighting source.
Technologies
Incandescent, LED, fluorescent and halogen bulbs all are used in such lamps. Some have an articulated arm for precise orientation of the light.
How to choose
Choice will depend on required light intensity and type, direct, indirect or diffuse. Personal preference will determine aesthetics, since traditional lamps blend well with any decor.
Disadvantages
- Require floor space