How to choose this product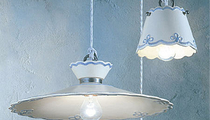 A traditional pendant lamp hangs from the ceiling, sometimes incorporating multiple units. It is characterized by sober form, fine decoration, often with floral motif, and neutral, pastel colors. Materials such as bronze, wrought iron and crystal are frequently used in its fabrication.
Applications
These lamps blend easily into any decor thanks to their delicate, sober aesthetic characteristics, so long as ceiling height is sufficient to accommodate them.
Technologies
Pendant lamps use incandescent, fluorescent or halogen bulbs.
How to choose
Ceiling height must be sufficient for proper installation, and bulb type and number should provide adequate light. Incandescent and halogen bulbs are preferred for their light quality.