How to choose this product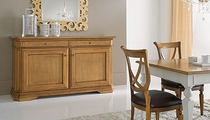 A traditional sideboard may be used for the display, storage of items such as tablewares or other household objects. It may use well established forms, materials and construction techniques and be designed to blend into a number of different environments. It may be high level or low level, and may include cupboards or drawers.

On ArchiExpo, a traditional side board may be arranged by properties such as materials or special features.
Applications
A traditional sideboard may blend in well to a space with other traditional or period style furniture or complement a neutral space. It may be used in the home especially in dining areas, or may even be used in commercial spaces such as restaurants for storing and displaying table wares or other items.
Technologies
A traditional sideboard may be made of materials such as solid wood, bamboo, or glass. Solid wood designs may be constructed using traditional joinery techniques or finishes such as varnish, wax or lacquer.
How to choose
When choosing a traditional sideboard, consider how it will fit with other furniture in the space, ensuring that the storage space is suitable for the items to be stocked and that the sideboard leaves enough room for circulation and cupboards to be comfortably opened.

Consider how much maintenance is required and whether the finishes need to be resistant to scratching, staining or watermarks.