How to choose this product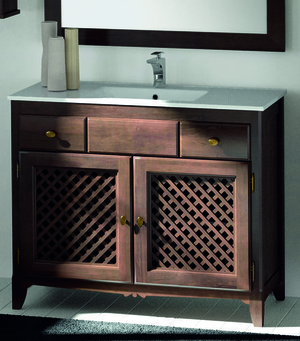 A traditional washbasin cabinet has a standard form and uses established materials and construction techniques, such as wood joinery. The cabinet fits under the sink, hiding plumbing while providing storage in the form of drawers, cupboards and/or shelves. It may rest on the floor or be mounted to the wall.
Applications
The conventional appearance of this furniture lends a note of familiarity to its surroundings. It is found in homes, hotel rooms and other commercial or public settings.
How to choose
Consider how the finish and construction of the cabinet complement nearby furniture and how much maintenance is required. Some models have a protective finish which must be re-applied, such as paint or varnish. Ensure that the doors and drawers can be fully opened without hampering movement. Determine storage needs and preference for a freestanding or wall-mounted design.