How to choose this product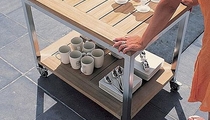 A trolley table, sometimes called a bus cart or serving cart, is a small, wheeled piece of furniture for transporting items from room to room. It usually has several shelves, the uppermost at table height.
Applications
These carts have a wide variety of uses: service and clearing functions in homes and restaurants, document and material storage and transport in offices, hospital transport of medical material, laundry transport, etc.
How to choose
Choice will depend on intended use. For example, kitchen trolleys usually have several open, superposed shelves, while an office model typically has closed storage designed for documents and office materials. Hospital carts are similarly adapted to the specific needs of the medical setting. A sturdy frame and wheels are essential for durability and ease of use, regardless of application.
Advantages
- Practical
- Multiple uses