How to choose this product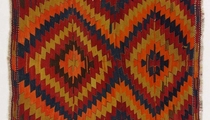 A Turkish kilim is characterized by its flat weave and rich motifs. Normally made from wool, some are woven with cotton, camel hair or other strong thread, or a shiny material, such as silk, to improve the texture and appearance. On ArchiExpo, these rugs are arranged by properties such as method of fabrication or type of dye.
Applications
Handmade or machine woven, kilims are often found in the home. It can constitute a unique floor or wall covering, or even be used as a prayer rug.
How to choose
Consider the quality of the weave, the thread and the finish. Decide on a handmade or machine piece. Consider how it will fit with existing decor, according to its intended function. Verify maintenance requirements and how well it resists staining and other damage.