How to choose this product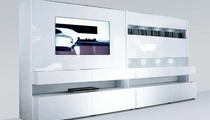 A TV wall unit is designed to hold and organize a television and other multimedia equipment. On ArchiExpo, this furniture is categorized by properties such as style or material.
Applications
These units often contribute to the aesthetic quality of the space. They may include closed cupboards and open shelving, either in the form of simple, superposed surfaces or bold geometric forms.

While open shelves provide display space for items expressing personal tastes and interests, they also expose the objects to dust. They may create an interesting focal point, or make the space look busy. A closed system integrated into the wall facilitates cleaning and spatial organization. A light-colored unit which matches the wall tends to blend in and make the space appear larger.
How to choose
Consider available space and whether the wall can support the combined load of the unit its contents. Determine how equipment will be connected to existing electrical and multimedia outlets. Verify that the television and other equipment will fit in the openings provided.

The unit may become the focal point of a living room. Its style may be chosen to stand out or blend into the surroundings. Another choice is between a clean design with equipment enclosed in cupboards and drawers, or open shelves.