How to choose this product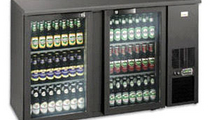 An under-counter refrigerator offers the advantage of occupying very little space. There are both residential and commercial models. Glass doors allow products to be displayed and easily found, particularly useful in bars and supermarkets. In contrast, opaque doors are easier to maintain and often contain shelves for small items. Hard wearing finishes such as stainless steel may be preferred for professional or high-traffic environments.

On ArchiExpo, these units are arranged by properties such as type (e.g., built-in) or use (e.g. professional).
How to choose
Ensure that refrigerator dimensions are suitable for the available space, especially if it is to be built into existing furniture. Consider energy efficiency and the quality and robustness of handles, shelving and the door gasket. Check the terms of the guarantee or warranty. Determine maintenance requirements and whether it has an automatic cleaning or defrosting feature.

In some settings style is important. Professional models must be suitable for the intended contents and offer the correct temperature range. Determine the need for an exterior digital display and/or thermostat to monitor or control temperature stability. Glass doors display the contents, reducing unnecessary door opening.