How to choose this product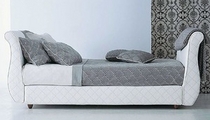 The upholstered bench is designed to seat several people, and may have armrests and a back. It resembles a small, compact sofa. The bench can be traditional, contemporary or designer in style. There are modular, corner and circular models, some with built-in lighting.
How to choose
Choice will depend on available space and user needs. Leather can be very elegant, while fabric may be more practical and comfortable. Style should match that of the room's decor: traditional, contemporary, designer, etc.