How to choose this product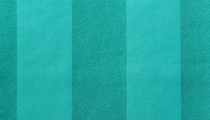 Upholstery leather is normally used for permanent and sometimes removable furniture coverings. Tanning processes and type of skin affect the quality and durability of the product. It may be natural or synthetic and come in a variety of colors, prints or textures. Leather tends to be more robust, easier to maintain and more comfortable than fabrics.
Applications
This product is used on both commercial and home furniture. Domestic applications, such as chair upholstery, tend to favor supple comfort, while commercial uses may require durability above all else, especially in restaurants and bars.
Technologies
The leather may undergo aniline, semi-aniline or pigmented treatment. Aniline products usually confer only a light protective finish, many of the leather's natural qualities remaining visible. Pigmented leather is generally produced using a polymer, which offers more protection against staining.
How to choose
Determine intended use and how the style will fit into the surroundings. Keep in mind that leather type, texture, thickness and color will affect appearance, level of comfort and robustness.

When choosing upholstery for a large number of pieces (e.g., hotel banquet chairs), consider how easy the leather will be to replace or repair in case of damage. Maintenance is also important. Although aniline-treated leather may look more natural, pigmented leather can be easier to care for and more robust.