How to choose this product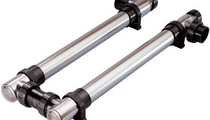 The UV sterilizer is an environmentally harmless way to sterilize water. Its ultraviolet radiation destroys bacteria and other microorganisms. Greater effectiveness is obtained by upstream filtration of the water.
Applications
This device is used to treat drinking water, waste water in treatment plants and swimming pool water, among other applications.
Technologies
Water passes through a cylinder emitting UV light which kills or inactivates bacteria, viruses, algae and other microorganisms in the water. This process also generates ozone, which enhances disinfection. Total disinfection requires use of a long-lasting chemical product such as chlorine or bromine.
How to choose
The water volume to be treated will determine the choice of UV sterilizer.
Advantages
- Low power consumption
- Ecological
Disadvantages
- Not 100% effective