How to choose this product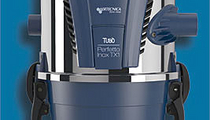 A vacuum cleaner removes dust, liquids, particles, or obstructions from a component or surface. It may be portable or centralized, robotic, domestic or industrial. ArchiExpo categorizes by intended use and configuration.
Applications
Portable models are used for cleaning domestic, commercial and public spaces. Capacity and type may vary according to the size of the space or type of surface to be cleaned. Small versions, also called dust extractors, may be used to remove dust from small components or surfaces (e.g., computer keyboards).

Centralized vacuum cleaners may be used in large buildings to eliminate the need to transport heavy equipment and empty the machine regularly.

Vacuum cleaning systems for exterior spaces are incorporated into heavy machinery which can be driven. Such leaf vacuums or mechanical street sweepers can store a large quantity of debris, reducing emptying frequency.
How to choose
When choosing a vacuum cleaner, ensure that it is appropriate for intended use and complies with applicable regulations. Consider suction power needs, debris holding capacity, noise and energy efficiency. For portable models, cord length and ease of transport are important factors (weight, size and components vary). Consider the area requiring vacuum at one time and whether the machine is capable of working in hard-to-reach areas (e.g, corners). Other criteria include required maintenance, guaranty or warranty and ruggedness.