How to choose this product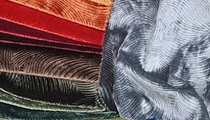 Velvet fabric is a double-woven soft pile textile made on a special loom. It is traditionally made from silk, but can be made from a range of materials including mohair or viscose. On ArchiExpo, this material is organized by properties such as function or type.
Applications
The thick, soft visual and tactile quality of velvet can add a touch of luxury to both residential and commercial spaces. It is often used for upholstery, curtains, decorative drapes or even clothing. In addition to offering comfort and decorative qualities, velvet also absorbs sound, making it a good space divider.
Technologies
There are many types of velvet, including crushed, plain, embossed, hammered and panné.
How to choose
Consider whether the velvet is suitable for its intended use. While it is very attractive and luxurious, the pile may wear out quickly in high-traffic or easily-accessible areas. Certain velvets are fire resistant or wear well. Others are very flammable and may not comply with regulations governing use in public or commercial buildings.

Determine maintenance requirements, as some velvets attract dust and dirt more than others. For upholstery, especially on matching furniture, replacement of damaged sections is an important factor.

Ensure that the velvet goes well with the style of the space. It may constitute a focal point or a complement to the surrounding decor. For example, stage curtains should have a neutral, functional design to avoid drawing attention from the action on stage.