How to choose this product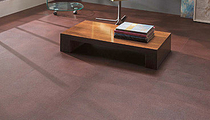 Vinyl flooring is impermeable, hygienic, resists scuffing and is easy to clean. It can be made to resemble stone or wood, or with multicolored, multi-textured patterns. Production techniques can confer qualities such as chemical resistance, inflammability and a non-slip surface, among others.
Applications
Such floors are primarily used in areas of low to medium traffic, where hygienic stability is important. These include, nursery schools, medical centers, laboratories and similar establishments.
Technologies
Flexible vinyl flooring comes in rolls of different sizes with thicknesses above three millimeters. Its smoothness and comfort make it suitable for areas where children are often present. Rigid flooring consists of sturdy tiles, easy to maintain and chemical-resistant. Damaged tiles can be replaced without having to change the entire floor.
How to choose
Choice will be made as a function of flooring quality, format and suitability for the locale and traffic intensity. Aesthetic qualities such as colors, patterns and imitation finishes will be determined by personal taste and room decor.
Advantages
- Easy to install
- Offers hygiene and comfort
- Low cost