How to choose this product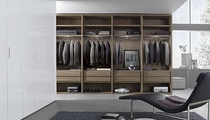 Walk-in wardrobes feature shelves, drawers, clothes racks and other storage components for organizing garments and accessories, including coats, shirts, dresses, handbags and shoes. They can be installed in a large room, but often constitute a separate space adjacent to a bedroom.
Technologies
These wardrobes generally consist of modular elements in a line, an L- or a U-shaped configuration. They usually comprise a metal structure with wooden, glass or aluminum organizing components.
How to choose
Available space will determine configuration options. Take into account personal organization needs, composition materials and design.