How to choose this product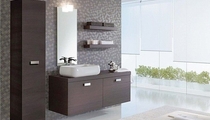 A wall cabinet is a wall-mounted storage unit with doors or drawers. This offers the advantage of leaving floor space free, facilitating cleaning and utilizing otherwise unused overhead space. On ArchiExpo, such items are defined by use, style, materials, etc.
Applications
These cabinets provide extra storage in bathrooms, kitchens, living areas, offices and other settings. The size of kitchen models is usually standardized. They allow the space above the counter to be used efficiently.
How to choose
Consider installation method and verify that the partition or wall can support the load of the cabinet and its contents. Cabinets exposed to moisture, as in a bathroom, should be made of materials that resist humidity and splashes. Dimensions should be appropriate for the number and size of objects to be stored.

Choice of style will depend on the surrounding decor. Most models are rectilinear, with finishes ranging from vibrant to natural. Correct mounting height will depend on intended use. For commercial and public applications, verify compliance with local regulations.