How to choose this product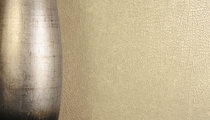 A wall fabric is a covering made from rattan, cellulose, linen or a similar product. Its woven quality can add an interesting texture to a room. It can be treated to improve qualities such as resistance to staining or dust. Some synthetics and blends such as PVC mounted on a woven fabric can be made to imitate leather or other natural materials, as well as being repelling stains and water.

On ArchiExpo, these materials are arranged by properties such as fabric type.
Applications
Such materials are found in both residential and commercial settings. Those used in restaurants, hotels and other busy locales should be particularly sturdy and resistant to fire, staining and scratches. In residential use, the visual and tactile quality of the surface may be more important.
Technologies
Textiles used for wall fabric include silk, linen, cotton, rattan and cellulose.
How to choose
Synthetic coverings offer an unvarying pattern, while natural fabrics often have inherent variations. Consider ease of installation and how well the material stands up to everyday use. Certain wall fabrics are delicate and difficult to install, but offer fine visual and tactile qualities which can create a natural ambiance. Commercial or public use, including in libraries and restaurants, may be subject to specific regulations.