Wall lights
622 companies | 7996 products
How to choose this product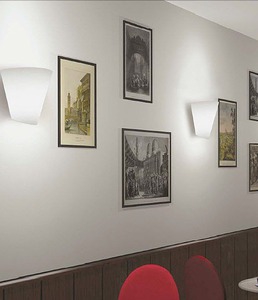 A wall lamp provides concentrated, decorative illumination as a complement to general lighting. Its conception can be design, modern, traditional or period. Materials include, glass, plastic, wrought iron, bronze, aluminum and copper.
Applications
These fixtures can be found in bedrooms, dining rooms or other interior areas, as well as outside, in yards or on terraces. Their limited brightness makes them suitable as adjuncts to a main room's principal source of illumination. However, they can be used as the only source of light in confined spaces, such as hallways and bathrooms, to make the area seem larger.
Technologies
LED, fluorescent, incandescent, halogen and other types of bulbs are used in wall lights.
Advantages
- Highlights specific items
Disadvantages
- Relatively dim light