How to choose this product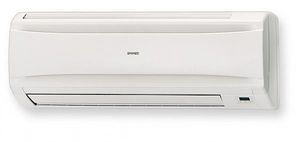 A wall-mounted air conditioner is a stationary unit. It blows cool and, perhaps, hot air to regulate the temperature of an interior space. It can be monobloc (window or through-the-wall) or split-system, with separate exterior and wall units. Some models are reversible.
Applications
These appliances are used primarily for cooling in all types of buildings, including dwellings, offices and stores.
Technologies
The wall-mounted air conditioner comprises:
- an evaporator (cold exchanger)
- a compressor, which recovers and compresses the vapors of the heat exchange liquid
- a condenser (where the vapor compressed into a liquid gives up its heat)
- a regulator (where the liquid returns to a pressure at which it can evaporate again)
How to choose
Choice of a wall-mounted air conditioner will depend on interior temperature requirements, the unit's programming capabilities, filtering and reversibility option for year-round comfort.
Advantages
- High wall placement frees floor space