How to choose this product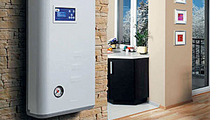 A wall-mounted boiler is lighter and more compact than a floor model. It has a control panel to regulate temperature and pressure. Its winter/summer mode option enables the central heating to be shut down in warm weather, while it continues to provide hot water for domestic use.
Applications
These boilers are designed for use in apartments and small houses without sufficient space for a freestanding floor model. Light and compact, they can be hung on the wall in the kitchen or another room.
How to choose
Choice will depend on the boiler's heating capacity and fuel type (gas, electric, oil or wood). Low-temperature and condensation models save energy without loss of heating efficiency.
Advantages
- Saves space
- Variety of models