How to choose this product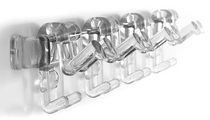 A wall-mounted coat rack is a set of hooks in a single unit used for hanging clothing. The hooks may be arranged vertically or in another pattern, but usually form a horizontal line. It is normally easier to install than individual hooks. On ArchiExpo, these items are arranged by properties such as style or type of material.
Applications
Such coat racks are used for storing belongings in homes, restaurants, sports facilities, museums and other professional settings. Retailers use them to display and organize items of clothing for sale.
How to choose
Consider the quantity, size and weight of the items to be hung on the rack. Ensure that it is mounted at the correct height. Accessibility regulations may indicate specific heights for public facilities. Keep children's needs in mind, as well.

Determine adequate hook spacing and verify that the wall can support the weight of a full rack. Style may be chosen to complement existing decor or to stand out as a wall decoration. Other factors are sturdiness and required maintenance.

The rack should be located where coats are habitually removed. This is usually just inside the door of a restaurant or bar. In crowded or high-traffic buildings rack placement should not hinder pedestrian flow.