The Online Architecture and Design Exhibition

pellet heating stove
CLOE3
... classic, aesthetic tenets of pellet stoves and takes on an ultra modern style: it is a true interior design item. It comes in various materials, stone, glass or metal and you can have it on a stand or fixed to the wall ...

pellet heating stove
WALL
When warmth has a unique style Wall, our ultra thin pellet stove, is designed for urban style lovers, for those who seek originality and who want to add a modern and somewhat aggressive touch to their ...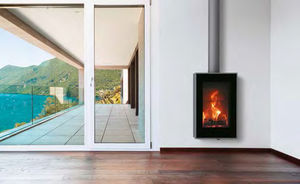 wood heating stove
VISION
Heat output: 4000 W - 10000 W
Vertical stove of modern and current design. Maximum vision thanks to its fully glazed door. Watertight model with possibility of external air intake for combustion and convection. Efficiency of 80.4% Minimum ...
See the other products
Carbel

wood heating stove
PIRIS DEKOR
Contemporary design with excellent performance. Efficiency 78,4%. Minimum emissions at 0,07%. Comes with a practical firewood compartment on its lower section. Now available with THERMIC interior!
See the other products
Carbel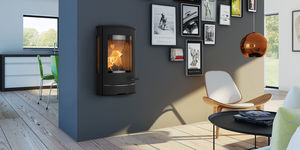 wood heating stove
LIVA 8 G
Elegant and redesigned stove for the wall Liva 8 G is an updated version of a classic design. The stove boasts all the popular benefits and features of the Liva series – in other words ...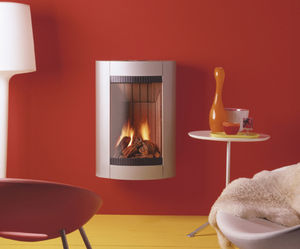 gas heating stove
HI-FIRE: SUENO
The Sueno has an elliptical form which is connected to the wall and this gives the fireplace a distinctive shape. The fireplace is nickel coloured and is also available with pedestal, decorative fluepipe and loose footplate. ...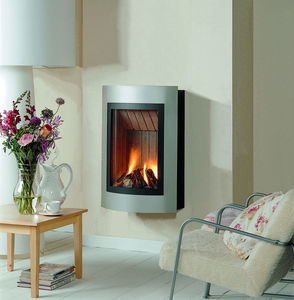 gas heating stove
HI-FIRE: LIGERO
The Ligero looks like a half-round, silver grey pillar against the wall.

multi-fuel heating stove
BACKBOILER
... backboiler inset stove is based on our very first product, the Supreme backboiler. With over 30 years of knowledge and experience in the manufacturing heating industry, we are proud to launch our highly ...

multi-fuel heating stove
DRY
Due to the overwhelming success of our multifuel backboiler inset stove, we have decided to extend the range to include a dry inset version. This stove is perfect for those of you who like our aesthetically ...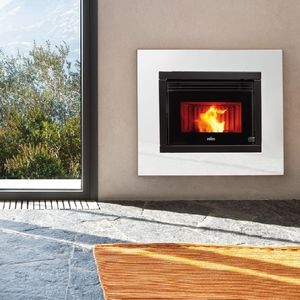 pellet heating stove
BOX: R 1000
... , heat resistant up to 750°C Cast iron burn-pot Function controls with graphic display and remote control Centrifugal fan heating Glass cleaning system Standard programmable thermostat

wood heating stove
CUBIC WALL by Anders Nørgaard
... is a minimalist and modern wood-burning stove, which perfectly fits modern homes with its distinct lines. Cubic is designed by Anders Nørgaard, who aimed to design a beautiful and functional wood-burning stove. ...
See the other products
Jydepejsen A/S

wood heating stove
ELEGANCE WALL
Elegance has a diverse oval design with eye-catching details. The handle is integrated in a beautiful ribbon of stainless steel that conceals the DuplicAir® air control. The widest panoramic glass on the market offers an 180˚ view of ...
See the other products
Jydepejsen A/S

As you can imagine by the name the HL2 Wall is installed hanging. The stove is the hanging counterpart to the standing HL2 and contains the same outstanding qualities.
See the other products
Harrie Leenders

Dia is straightforward and minimalistic. Although attached to the wall, Dia is rotatable up to 45°. Dia heats up very quickly and only needs a small amount of wood to enfold into a nice fire, for that reason it is very ...
See the other products
Harrie Leenders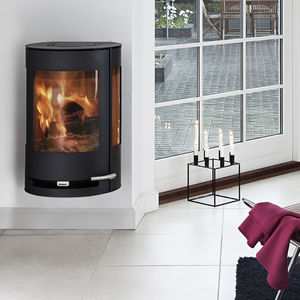 ... and cubist designed wood burning stove, giving a light, simple and modern impression. A wood section is built-in without a backplate under the bottom grate and this gives the stove a light and exclusive ...

... spoken, the wall-mounted model facilitates cleaning because it is so easy to get to. There is a shaking grate and an effective ash tray. The stove is available with top or rear outlet ...