The Online Architecture and Design Exhibition

wall-mounted shelf
MENSOLA
The sheet metal Hook shelf can be placed next to the desk, or even over the bed to keep your favourite belongings in plain sight.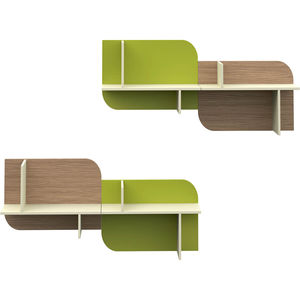 Lots of different combinations with the Cloud wall units, which can be set side by side or one above the other.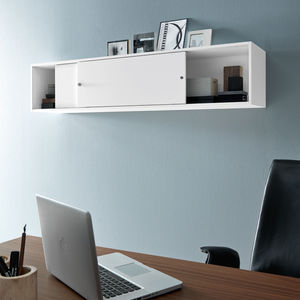 Wall hanging unit W. 1800 mm with sliding doors in white matt lacquered finish.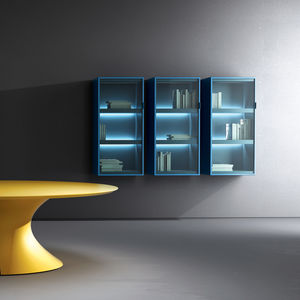 Single modules, joinable, can generate a functional storage system that can be personalized in finish and colours.

wall-mounted shelf
845608
Maximum load : 50 kg Overall L x w x h : 800x400x300 mm Thickness : 1

wall-mounted shelf
845618
Overall L x w x h : 800x470x1000 mm Thickness : niveaux (L800) en tôle Number of levels : 2 Max. load per level : 50 (répartis sur toute la surface) kg Deep : 7

wall-mounted shelf
846007
L x D x H overall : 650 x 105 x 110 mm

... the accessories follow the line of the project. The SHELF, HOOK and PAPER TOWEL ROLL HOLDER accessories add functionality to the track and free the work surface from unnecessary clutter. NODO shelf ...


wall-mounted shelf
STOCKHOLM

wall-mounted shelf
STATICA by Daniele Lago
... The lever principle applied to a bookcase Statica shelves are supported by the lever principle, simply slipped onto the axis and oriented either to the right or the left. The shelves do not require wall ...
See the other products
LAGO

wall-mounted shelf
PONTACCIO by Enzo Berti & Carlos Garcia
... renews itself as you do, built out of simple rectangles that you can arrange however you like. The lower part is fixed to the wall with an aluminium anchor, while the upper part slides over it sideways. Pontaccio is at ...
See the other products
LAGO

modular shelf
36E8 by Daniele Lago
... Air MadeTerraneo Shelf The Air MadeTerraneo Shelf is covered with hand painted ceramic with regular or irregular edge. Six colormoods are available to furnish both elegant and colourful rooms. Air Wildwood ...
See the other products
LAGO

wall-mounted shelf
LAGOLINEA by Daniele Lago
The LagoLinea system has a slim, lightweight graphic profile, designed to offer maximum expressive freedom on the wall and create continuity between the bedroom and living area. A single line, 30-mm-thick, outlines, narrates ...
See the other products
LAGO

wall-mounted shelf
ET VOILA by Daniele Lago
Et Voilà is a storage system that revolutionises the concept of furniture, replacing traditional rigid doors with a single fabric door the same size as the structure. The fabric door runs on invisible tracks and closes thanks to a magnet ...
See the other products
LAGO

Lightness and flexibility are the defining traits of the wall-mounted bookcase structure, available in any finish from the catalogue. It can be fitted with doors in the various finishes, including mirrored doors.

wall-mounted shelf
WANDREGAL
Everything from a single piece. One panel is processed to form a shelf unit with minimal material wastage. The lateral sections reinforce the frame. The cut-out sections serve as shelves, held in place by a steel bar.

wall-mounted shelf
MISTRAL
The flexible and customized bookcase for every room! The MISTRAL bookcase is developed for you who likes individuality and wants to create your personal and functional bookcase. It is all up to you to create your own arrangement. Only ...

wall-mounted shelf
MISTRAL AIR
The airy shelving solution for every room! Airy and sleek. And elegant. MISTRAL AIR are the best of danish design: trendy and at the same time timeless with focus on the details. Produced in Denmark with respect of inviroment. MISTRAL ...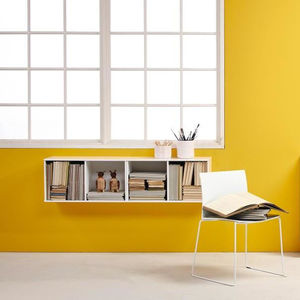 wall-mounted shelf
MISTRAL KUBUS
Simple and modern MISTRAL KUBUS is the simple and sleek shelving system. Designed for you who wants a narrower but pricier range to choose from. But still in our well-known MISTRAL quality. The MISTRAL KUBUS cabinets are 12 mm thick ...

wall-mounted shelf
NEW NICE 2.0
While the architecture of New Nice is minimalist, its technology and efficiency is maximum. The two islands, key elements of this solution, feature the worktop in lava SinterLite and the groove opening of the base units with rack layout. ...

wall-mounted shelf
PEOPLE
... metal frames used for the open shelf units are sturdy, workmanlike and robust. LIGHT AND LINES Unfinished cement and plenty of light from the amply dimensioned windows. On the wall, modules with metal ...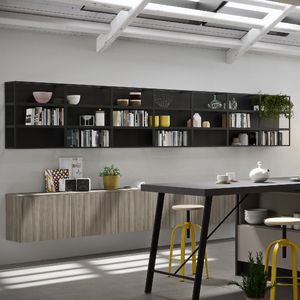 wall-mounted shelf
NEW INFINITY

wall-mounted shelf
CA'NOVA 2.0
The artistic aspect of a product repays the value of experience so as to create concrete and functional objects. Ca' Nova presents a "noble" interior design housing important storage units, marble work tops, innovative electrical household ...

Wall mounted shelfing system. Max. load on shelf: 20 kg per 2 wall rails. Technical data Length: 96 / 158 / 220 cm Width/depth: 25 cm Height: 2 cm Materials Oak / Walnut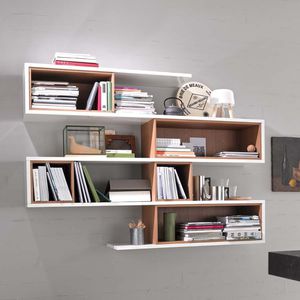 wall-mounted shelf
NOVA LACK/NATURE COGNAC
Special single items – such as an unusual open wall shelf unit – create an exciting counterpart, and add personality to the room. A place you'll be happy to spend a little time in ... or a lot..

wall-mounted shelf
NAPPA BRAZILIAN
The finish in brazilian brown harmonises particularly well with the new brown anodised handles and the slim, very elegant 12 mm solid core worktops, which are available in black, white and stainless-steel look

wall-mounted shelf
ARTWOOD ROYAL/FEEL PAPYRUS
Is everything in the right place and close at hand when you need it? It is guarabteed to be with the panel wall. The elements can be freely arranged and replaced at any time if your own wishes and meeds change. For more ...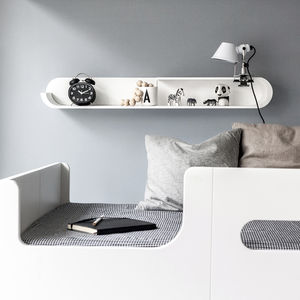 wall-mounted shelf
S by Agata & Arek Seredyn
... this new S shelf. High quality finish and playful elements are trademarks of Rafa-kids' design. This time we added a small metal plate to the shelf, where you can easily attach pictures and personal ...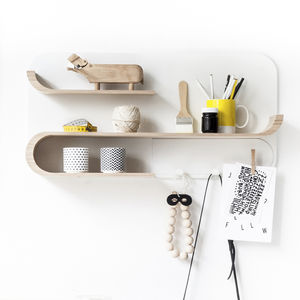 wall-mounted shelf
M by Agata & Arek Seredyn
... beautifully! Unique and functional shelf with curved wood details. High quality finish and playful elements are trademarks of Rafa-kids' design. This time we added a metal plate with 3 metal hangers to the shelf, ...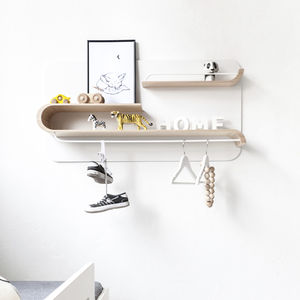 wall-mounted shelf
L by Agata & Arek Seredyn
... display special baby clothes. In a toddler room, L shelf would help to present little toys and favourite wardrobe garments. In a teenager room the L shelf would be a functional and beautiful element too. L ...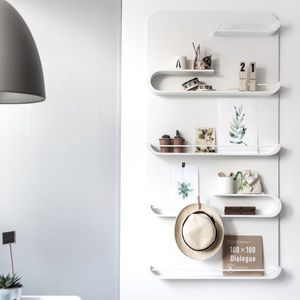 wall-mounted shelf
XL by Agata & Arek Seredyn
Our unique and beautiful XL shelf is intuitively designed to display your personal items. Imagine the possibilities of this shelf around your house. Display your collection of comic books, magazines, ...

wall-mounted shelf
OPEN UNITS
The OPEN UNITS are versatile and may be used in many ways thanks to their various measures and structures. They can be positioned among or under the suspended units, between the bases and the columns... practically, they serve every area ...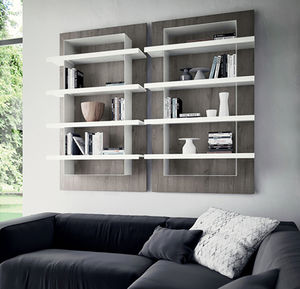 wall-mounted shelf
O-LINE
O-LINE is a panelling characterised by a metal element that breaks the symmetry of space and shelves. O-Line primary scope is to store items that are always at hand and to give a personal appearance of the kitchen.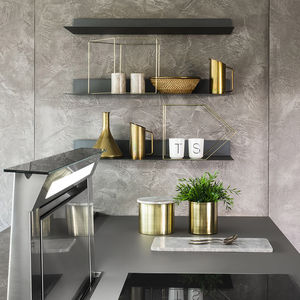 SKY is a bent sheet steel wall shelf with innovative characteristics that combine attractiveness and reliability. The wall inserted profile guarantees to install it without visible screws.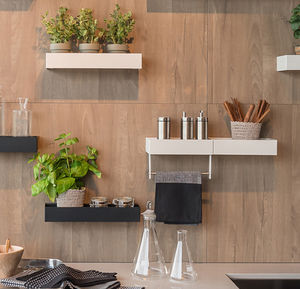 Small metal geometries customised by paintings of many colours from the sample collection allow to combine pleasant colours with useful measures, that are perfect for placing the everyday use objects in a harmonious way.

wall-mounted shelf
CAMELIA TREE by Marina Pandunata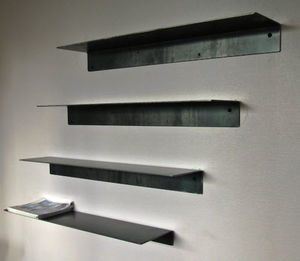 wall-mounted shelf
MINIMAL

wall-mounted shelf
LES CASES



Wall bookcase in horn and macassar ebony wood with gloss finish. Overall dimensions: cm 250 x 40 x H cm 148

wall-mounted shelf
SLIDE SX-DX
A collection of shelves in lacquered steel in different colors and characterized by a linear and simple shape. This product features an arm on one of the two sides which, besides conferring robustness, offers a possible ...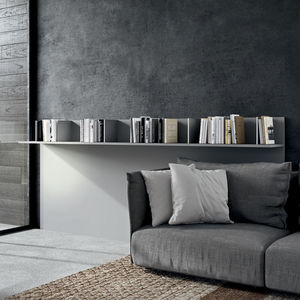 Play is a new model of kitchen with curved grip profile characterized by the profiles on the upper and lateral side of the door that will help to increase the useful life of the kitchen and protect the doors against finger marks caused ...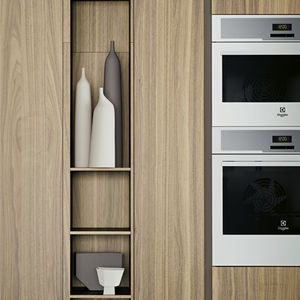 wall-mounted shelf
DESIGUAL ELEMENTS by Michele Marcon
Desigual open units are forniture designed to transform the living area or the kitchen. They have an exclusive, distinctive eye-catching good looks featuring 30 mm or 12 mm thick side panels. Available in several sizes they can come ...

wall-mounted shelf
TERMINAL UNIT
... unit in a terminal version, L 30 cm and 35 cm deep compartment matched with lacquered shelves. The compartment can contain shelves or it can be used as a practical broom holder. An intelligent solution to complete the kitchen area.

wall-mounted shelf
MODERN AND CLASSIC LIVING AREA
Open-plan kitchens often flow into the adjacent living area, and furniture can indeed act as a cohesive element that brings both areas together. Dibiesse has designed different solutions for co-ordinating the kitchen with the living area, ...

wall-mounted shelf
MAXIMUM PERSONALIZATION
Dibiesse proposes a full range of colors to create and personalize each element and detail of your kitchen.