The Online Architecture and Design Exhibition

wall-mounted shelf
DUNE PRIMA
The flowing white and sandy hues hint at the seashore, creating a natural and unique color aesthetic that inspires design that is equally singular.

When design meets the most advaced technology in the living room. Bijou puts at the center of its project different materials like Glass, Stratified HPL laminate and the latest high-tech material Grès (Porcelain), produced in very thin ...
See the other products
ARAN Cucine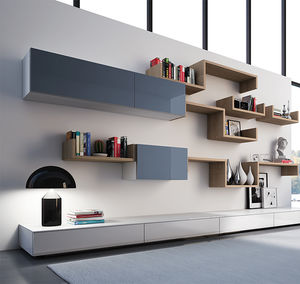 The multi-faceted personality of Bella offers new sensations: high quality materials and innovative technology ensure a memorable and pleasant experience of use. The innovative wood texture "register pore" provides the look and feel ...
See the other products
ARAN Cucine

wall-mounted shelf
41550000 by Phoenix Design
material glass material holder metal installation type wall-mounted

wall-mounted shelf
40352000 by Phoenix Design
material glass material holder metal length 700 mm installation type wall-mounted

wall-mounted shelf
DROP by Pierpaolo Zanchin
Wall bookcase/wine rack in matt white (OP71), black (OP17), graphite (OP69) lacquered steel or in polished stainless steel with rack and shelf in matt white (OP71), black (OP17) or graphite (OP69) varnished steel.

wall-mounted shelf
ASTOR: 02110
02110 Pair of shelf brackets PRODUCT ATTRIBUTES without shelf
See the other products
KEUCO

wall-mounted shelf
EDITION 400: 11510
PRODUCT ATTRIBUTES tempered glass (ESG), only
See the other products
KEUCO

wall-mounted shelf
MELL by Jehs + Laub
... underlined by a black-white or red-orange textile cable connecting the electrics box to the power outlet. Utensil boxes Wall-mounted shelvings in a vertical or horizontal version can be completed by utensil ...

wall-mounted shelf
NOCTO PLUS by Team Form Ag
... place for sleeping is imbued with comfortable quiet. It goes without saying that bedside tables, reading lights, storage shelves and drawers – all those things around the bed that clutter the appearance – can be combined ...

wall-mounted shelf
PURIST®: K-14440-CP
Purist accessories combine architectural forms with sensual design lines for a modern, minimalist look. This glass shelf offers a convenient place to store your bath toiletries or decorations, echoing the elegant simplicity ...

wall-mounted shelf
DALTON
More than a bookcase, an architectural construction, with a facade that calls to mind classic grace. Thick, shelves create a decidedly horizontal pattern, interrupted here and there by vertical metal segments that create ...

wall-mounted shelf
ALIANTE
Series of wall bookcases with a metal frame and wooden shelving. The frame is composed of two reeds in polished chromed metal. Shelves can be matt or polished lacquer in all colors of the collection: ...

... metalworker, the leftovers of mechanical processing, a snapshot of abandoned industry between brutal aesthetics and poetry. Z-shelf, together with the 3 Nuns stool, and the Glider sofa, is part of Americana, a heterogeneous ...

wall-mounted shelf
KARTELL
A complete bathroom project inspired by the iconic design of Kartell together with the quality of Laufen. On one hand, Kartell, Italian, creative, colourful and iconic. The family company that has marked the history of design and revolutionised ...

wall-mounted shelf
FLORAKIDS
florakids from LAUFEN is imaginative, colourful and playful – a bathroom that children are sure to enjoy. The centrepiece of florakids is a washstand with a basin in the shape of a flower blossom, available in white, red or green. In ...

wall-mounted shelf
SLIM UP
Slim up is the day line available in the newest and most up to date finishes: resins effect, wood and new lacquers. The possibility of combining the various finishes renders each composition a unique mix of materials: sober grey resin ...

Concrete grey meets planked oak, elegant glass cabinet meets solid sideboard, style meets functionality. By mixing apparent contrasts, FENA proves how well very different yet original materials can be combined in a balanced design. From ...

wall-mounted shelf
CUTARO
CUTARO is the perfect marriage of natural wood with expressively crafted details and balanced colour accents. Fractal patterns are characteristic features of CUTARO, this design is cleverly repeated on the bed and wardrobe in wood and ...

wall-mounted shelf
POPWORM
Material PVC "flame retardant" Dimensions Width: 202.8 '' Depth: 7.8 '' Height: 7.4 '' Unit weight: 9.8 kg

wall-mounted shelf
SHELFISH by Ludovica & Roberto Palomba
Made of transparent methacrylate ester, Shelfish is mounted using special anchors and plastic supports. Thanks to its simplicity and formal purity, it adds a personal touch to any room, without weighing it down, with ...

90 x 36 cm Shelf in birch veneer, natural lacquered Shipped unassembled in a Carry Away package.
See the other products
Artek

wall-mounted shelf
REB 006 KAARI
Panel with linoleum surface (thickness approx. 24 mm), ABS edge. Wall bracket solid natural oak with protective varnish or black stained with protective varnish, flat rolled steel powder coated black. Console 100 x ...
See the other products
Artek

An essential part of KI's product portfolio, 700 Series files and storage are compatible with a variety of furnishings. 700 Series overfile cabinets provide convenient filing space at your fingertips. Locking options provide security ...

wall-mounted shelf
BALANCE
... using either the upper or lower door - both swing open simultaneously and stay balanced at any point. A Balance overhead mounted to a 66"-high panel opens and closes with a reach of 49", making it wheelchair accessible ...

wall-mounted shelf
CUBIKO by Wesley Chau
... shower caddy. Drainage holes built into each shelf Double "s" hook can be used to store a razor. Over the door clip slides on easily to mount over a shower door 2 large metal shelves ...
See the other products
Umbra

A new approach to in-shower storage, the Umbra Flex Gel-Lock™ Shower Bin was designed with multiple features to give you the extra storage you need. The patented Gel-Lock™ technology locks out air for a stronger and longer lasting hold ...
See the other products
Umbra

wall-mounted shelf
MENSOLINEA
Mensolinea shelf is the ideal solution for fitting out the space between base and wall units. Made to measure in aluminium with stainless steel finish and fitted with a continual tray along the upper ...

Material: clamp in polypropylene with glass fibre added. Shelf in steel plate painted in polyester powder, in solid beech and in Carrara marble.

modular shelf
TO THE WALL by Cini Boeri
Material: clamps in polished die-cast aluminium. Shelves in tempered glass or anodised aluminium matt natural.

wall-mounted shelf
BLADE by Gianluigi Landoni

wall-mounted shelf
CTLINE by Victor Vasilev
DESCRIPTION / Tall units with shelves, available in different heights and depths creating a characteristic composition with irregular profile. Versatile use. Usable in each room of the house. The mirror on inclined front side (which ...