The Online Architecture and Design Exhibition

wall-mounted sideboard
ROME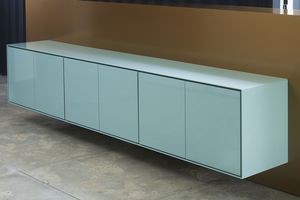 wall-mounted sideboard
DOSHI
Countertop with an MDF structure and high gloss or matt lacquer finish. Available in several colors. The piece has two different depths (42cm and 52cm) and is always anchored into masonry. Measurements W 92cm * ...
See the other products
Estudiobola

wall-mounted sideboard
CORTECCIA by Andrea Salvetti
Corteccia is a wall shelf unit by Andrea Salvetti for Mogg, made of veneered with slabs of cedar wood, and drop down door. Corteccia is a wall shelf unit with minimalist appearance and taste craftsmanship. ...

wall-mounted sideboard
M by Thomas Merkel
... door can be replaced by drawers. Initially a sideboard is mounted at the wall and afterwards it is placed on the floor. Many options are possible because we know that everything can change. Horizontal ...

The wall-mounted base units are designed to meet different functional and space requirements; they can be customized in your choice of finish and have a back panel in nuvola

wall-mounted sideboard
CUBE 40 by Chris Vankeirsbilck
A particularly handy solution based on the aesthetic and functional benefits of the Cube concept. The 'smart' aspect is the foldable tabletop that disappears without trace into the cupboard. This gives you more living space at the flick ...
See the other products
Ghekiere Industries

sideboard with long legs
MAXIMA : BD 11 by Bartoli Design
Wooden sideboard with flap doors and carved sides, two internal pull-out drawers. Available in all sample woods and in different sizes. Can be made in leaf door versions with bases or wall-mounted.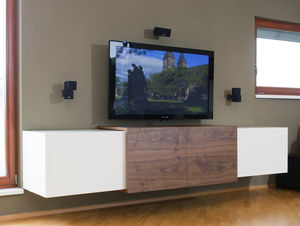 Its good to have the option to hide all electronics and cables, but its also important to have good access to everything. An ideal TV table with sliding veneer doors solves it all. The sliding doors have a fluid motion thanks to quality fittings.

wall-mounted sideboard
MANO by Michael H. Nielsen.
With MANO there is a focus on flexibility and spaciousness. Arrange the modules in different patterns, experiment with new colours, add a couple of asymmetrical element – you will go crazy for MANO. We can alter the MANO storage ...

wall-mounted sideboard
ORDE-WA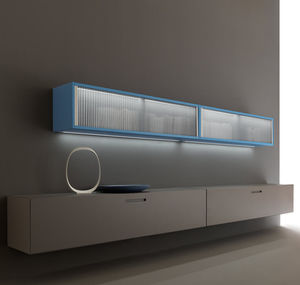 wall-mounted sideboard
ZAZÀ
Zazà, in alternation from thetraditional doors, is used oncabinets or storages when givinga lightness idea and functionalityto the furniture is required.The office complementsfurnish without occupyingmuch of space, fit easily intoany ...
See the other products
Martex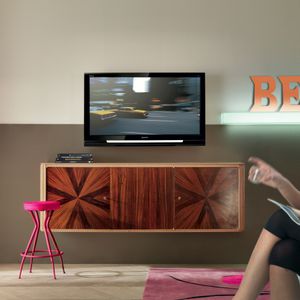 wall-mounted sideboard
ART 832
A varied and ever-changing range of compositions, colours, textures and shapes to furnish rooms in a customised manner, focusing on quality and well-being in the home. The attention to small details and the refinement of decorations reveal ...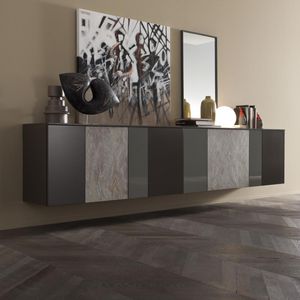 wall-mounted sideboard
COMP_830
Research and expression of our job, HORIZON is a goal achieved. In this evolution phase, the details have no fear to reveal themselves, the materials are expressed in all their naturalness, shapes and colours show off with pride. 2700 H. 613 P. 450
See the other products
Mobilgam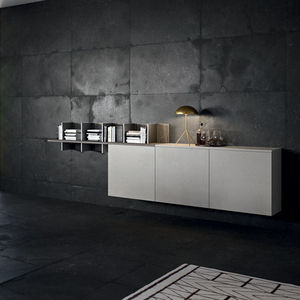 wall-mounted sideboard
LIVING MODULARITY
... modularity and new finishes and colors for the kitchen and the living area and offers many new elements to accessorize the walls. Ask to the authorized dealers to see Dobly items and to see the 45 colors available in ...

wall-mounted sideboard
ATTITUDE
Arthur Bonnet has designed living room furniture to match your Attitude kitchen. The Attitude kitchen is a contemporary yet authentic space, and creates a welcoming friendly environment. With matching furniture, this warm environment ...

wall-mounted sideboard
BH_20 by Sotiris Lazou
L_ 1600 mm H_ 400 mm D_ 350 mm

wall-mounted sideboard
INTEGRA
IntegraEco Kashmir and Olmo Naturale Matt Kashmir metal wall units
See the other products
Santa Lucia

wall-mounted sideboard
CACHE CACHE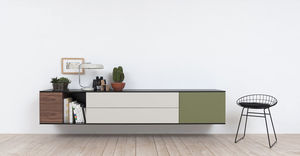 wall-mounted sideboard
LANDSCAPE
... different colours and layouts you can create either a discreet cabinet or an eye-catching cabinet. Landscape is available in both a standing on a plinth or a metal frame and mounted cabinet ...
See the other products
pastoe

wall-mounted sideboard
H. STORE by Sabine Mühlbauer & Thomas Tritsch
H. STORE is the wall-mounted version of STORE and offers numerous ways to maximize space. It is particularly adapt for your everyday work envelopes, files, books, collections or music systems. H. STORE ...

wall-mounted sideboard
1323 by Paulo Neves
See the other products
Luisa Peixoto Design

wall-mounted sideboard
STICK by Castiglia Associati
indoor metal trims system of variable heights to be fixed on the wall. It allows the addition of metal cabinets, with or without doors. Metal trims are available with or without led lights. Pictured with opaque black ...

wall-mounted sideboard
SYDNEY by Giovanni Luigi Gorgoni
Suspended sideboard with white matt lacquered structure and metal front panels with Newspaper decoration. Internal glass shelves included. Optional led lighting on the back and internal drawers. Printed image can be customized.
See the other products
Ronda Design

wall-mounted sideboard
FUNK by Per Söderberg
... sizes and colours etc. This years version is lighter, and less chunky, making the cabinats flexible and easy to place — on the wall, on their feet or on a stand.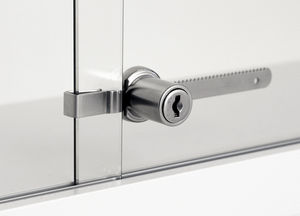 wall-mounted sideboard
FRONT by L.Pettersson & L.Notman
... available as an optional extra. The cabinet is wall-mounted on a metal suspension strip. Special sizes and other finishes upon request. Front was presented in 2004 as a simple straight ...
See the other products
KARL ANDERSSON