How to choose this product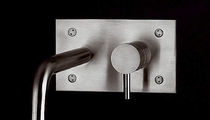 A wall-mounted single handle mixer tap runs the hot and cold water in one spout and has one handle controlling both the temperature and the flow. The distance between the tap and the sink can be customized and it is often easier to keep clean than sink-mounted fixtures. On ArchiExpo, such devices are defined by properties including use and special features, such as pullout spray head.
Applications
These fixtures are found in bathrooms and kitchens, be they domestic, commercial or public.
Technologies
Such taps may be mono- or dual-flow. In the former, the hot and cold water is mixed. In the latter, hot and cold water supplies are kept separate in the same spout. Usually, turning the handle right and left changes the balance between hot and cold water. Moved it up and down turns the water on and off, and adjusts the flow.
How to choose
Ensure that tap style and finish suit the surrounding decor. When choosing form and material, consider ease of cleaning. Simple, rounded shapes and matte finishes are usually easier to maintain than complex forms with polished finishes, which show watermarks readily. Determine the need for a water-saving automatic shutoff device, temperature regulation or other features. Consider how the pipes will be accessed for maintenance.