How to choose this product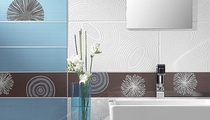 Wall tile is a covering whose installation differs from that of others. Thin square or rectangular elements are glued to the backing in a checkerboard pattern. Size ranges from mosaic and standard to large elements.
Applications
These tiles are usually used in bathrooms and kitchens because of their resistance to moisture, temperature variation and cleaning products.
Technologies
Wall tiles are made from a variety of materials, including clay, porcelain stoneware, wood, stone, cement, glass and metal. Resistance and finish differ with manufacturing technique. They can have texture or relief and be made to resemble different types of marble, wood, metal or stone.
How to choose
Choice will depend on constituent material, intended use and aesthetic characteristics: size, texture, color, overall appearance, among others.