Wallcoverings
How to choose this product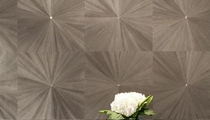 Numerous types of wallcoverings exist for an infinite number of applications. Among the most common types are decorative coverings, paint coverings, decorative panels and paving.

Each types has specific indoor or outdoor applications. An entire group exists for humid areas (e.g. bathrooms, kitchens).
Applications
Wallcovering uses and properties are specific to each model and are generally explained in great detail in the manufacturer's technical sheet.
Technologies
Wallcoverings vary in terms of materials, areas of use, and methods of installation.

Wood, ceramic, terracotta, stone, fabric, PVC, vinyl, metals and resin are some of the most widespread materials.

The most common types of formats are panels, paving and rolls.
How to choose
Personal taste, area type and budget are the main parameters to consider before choosing a wallcovering.
53 companies | 890 architectural and design products
1 products Donghia
Vinyl
LOOKS LIKE PALM

Donghia
Looks Like Palms is a durable, modern alternative translated from actual palm. Made from 100% paper backed vinyl and...
1 products Atena spa
Printed
Atena spa
Set up as a specific section entirely dedicated to artistic decorations for internal...
1 products Mel et Kio Studio le Prédeau
1 products DELEAGE EXPANSION
1 products DanSign
Printed
SUPERGRAPHICS

DanSign
Supergraphics combine functionality with aesthetics. DanSigns team of graphic designers are experts in creating supergraphic which can solve functional and practical challenges and integrate them as...
2 products Polyflor
Vinyl
POLYCLAD PU

Polyflor
Polyclad PU is a tough, durable and flexible vinyl wall and ceiling cladding featuring the protection...
1 products FRANCE EQUIPEMENT
2 products Osmoze -atelier de design et de décoration murale-
Filter by :
› New products

(23)

› Products with video

(2)
Refine the search
Wallcoverings
Extend the search
Search by manufacturer
Search by catalog
Associated Terms
wall coverings, design wallcoverings