The Online Architecture and Design Exhibition

contemporary table
EN by Koizumi Makoto
Height: 71 cm
Length: 150 cm - 180 cm
Width: 80 cm
W1500-1800 D800 H705(mm) The contrast of dark color legs made of walnut and natural table top is pleasant. The chairs made of walnut match this table very well. The slit ...

contemporary table
SOLID by Sabine Mühlbauer & Thomas Tritsch
Height: 75 cm
Length: 100 cm - 300 cm
Width: 100, 90 cm
SOLID is like its name, a solid wood table of a special kind. It is the modern answer and at the same time homage to the traditional solid wood table. Due to new construction the furniture presents itself ...
See the other products
MORGEN COLLECTION

contemporary table
DANSKE-T : DT01
Height: 75 cm
Length: 240 cm
Width: 90 cm
... wood, finish (T02 walnut), protected with matt, water-based varnish. The frame underneath is in powder painted steel, finish (C08 black). The steel and solid wood permeate to generate volumetric purity and develop ...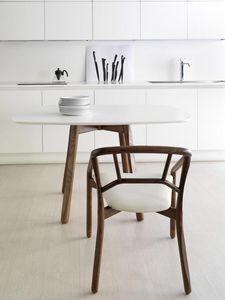 contemporary table
MARNIE by Daniele Lo Scalzo Moscheri
Length: 200 cm
Width: 85 cm
... square or round tops from 850 to 850×2000 mm, lacquered or raw surfaces. Materials and colors: Ash wood stained natural or walnut, lacquered white or gray. Tops: MDF lacquered white or raw.

contemporary table
RATIO by Marco Guerini
See the other products
Bdm s.r.l.

contemporary table
TRIM SP by Tapio Anttila
Height: 73 cm
Length: 70 cm
Width: 70 cm
Laninate top in white or walnut, 70x70 cm. Legs are available in chrome or powder coated.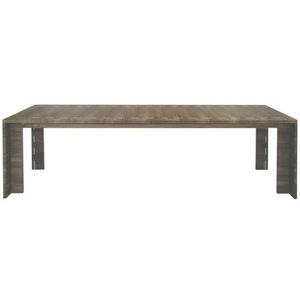 contemporary table
TUCK by Tim Watson

contemporary table
CROSSLEG
Height: 77 cm
Length: 240 cm
Width: 100 cm
Materials Walnut Dimensions (LxWxH)2400 x 1000 x 770
See the other products
TEBIAN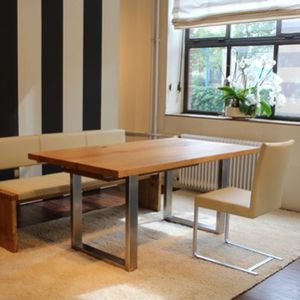 contemporary table
ADORA 08
Height: 75 cm
Length: 165 cm - 300 cm
Width: 90 cm - 100 cm
Length:165 – 300 cm Width:90 – 100 cm Table Height:ca. 75 cm Its unique look makes the Adora 08 table a star in every respect. NEW – Also the Adora 08 is now available with the TWISTER extension ...
See the other products
Schulte Design GmbH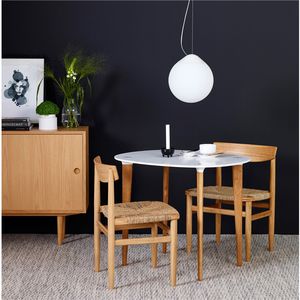 contemporary table
BUFF by Joel Karlsson
Height: 40, 50, 60, 72 cm
A challenge that we have struggled with for years is to make an indestructible table with wood feeling. When Joel Karlsson showed his idea with a durable tabletop that through a trumpet design meets the legs of solid ...
See the other products
KARL ANDERSSON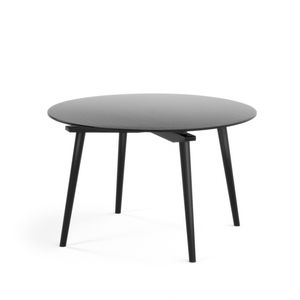 Scandinavian design table
CC
Height: 51 cm
Length: 80 cm
Width: 80 cm
White - Black - Walnut seat + Beechwood legs - Oak (natural, bleached) - Walnut Gather around this good looker and play some cards 50's style. Best paired with Stool CCs, the unmistakable 'floating' ...

Length: 180, 200, 220 cm
Width: 85, 95, 100 cm
... *The Tamaza table is made of two kinds of wood: walnut or oak. It can be finished with natural oils or lacquered. There is also the possibility of a full color option – there are three colors of finish ...
See the other products
ST FURNITURE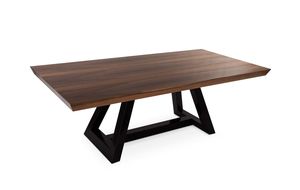 contemporary table
DUODECIMO
Height: 74 cm
Length: 220 cm
Width: 105 cm
Table with a top and a high polished base. Each element is made of blockboard made of natural wood, which is then covered with a layer of walnut veneer.

Height: 45 cm
Length: 100 cm
Width: 50 cm
Dimensions: 100 x 50 x 45 - Other sizes available Range of tables available in several sizes & shapes. Diamond veneer surface in the oak or walnut. Solid beech or walnut base.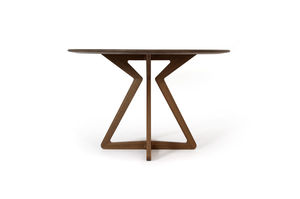 contemporary table
LISBOA 120
Height: 76 cm
Length: 120 cm
Width: 120 cm

contemporary table
BRIDGER COCKTAIL
Height: 37.5 cm
Length: 160 cm
Width: 89 cm
DIMENSIONS: 63 long x 35 wide x 14.75 high (160 x 89 x 37.5 cm)darkened bronze base with white oak, walnut or stone top; please specify polished bronze or polished stainless steel base available by special order; please ...
See the other products
CASTE

Height: 77 cm
Length: 160 cm - 219 cm
Width: 90 cm
... structure of Desi extending table is made of steel, available in a stainless or matt lacquered finish in the same colours of the open pore, which range from gunmetal grey to signal white. The top can come in a canaletto ...

contemporary table
MILENIUM PLUS
... . A modern line, with details in bright colours like green, purple, red and orange, combined with brilliant white, ash and walnut. Modern shapes and straight lines with a very innovative lighting system including LEDs, ...

Height: 78 cm
Length: 120 cm
Width: 120 cm

contemporary table
CHARLOTTE
Height: 76.5 cm
Width: 100 cm

contemporary table
CHARLES
Height: 76.5 cm
Width: 100 cm