The Online Architecture and Design Exhibition

contemporary wardrobe
CHAMBRE ARDOISE
See the other products
MOULIN ROTY

To keep looking forward to the new day in a special ambience. This is what this special cabinet system in its timeless design is representing. Inside as well as out, mattino special features empathise a harmonious ambience.
See the other products
Nolte

wall-mounted wardrobe
YG16-M05
STORAGE AREA Different area like the hanging and the packing are ready for the inside organization. Daily wearing can be easily found on hanging rod , while the out-of-season clothing can be put in the layers orderly.
See the other products
Oppein

contemporary wardrobe
by 2R Rasmussen & Rolff
The 2R cabinet range is a series of storage units with a clear and simple design idiom suitable for office environments or the home. The unit's simple modular structure allows innumerable combinations. The doors and drawers have magnetic ...

contemporary wardrobe
FAWN by Salih Teskeredzic
This wardrobe has all the smooth surfaces and sleek lines of the Fawn collection, and a design that will catch the eye – and all those clothes scattered about the bedroom. She is the perfect wardrobe ...
See the other products
Gazzda

contemporary wardrobe
FALMER HERS
A wardrobe for "Her" crafted from solid wood and veneered panels. The exterior features a powder coated rotating mirror. The interior features a variety of drawers and clothes rail in solid wood. Falmer Hers is finished ...
See the other products
REVISED

Length: 1.18 m (46.5″) Height: 1.30 m (51.2″) Depth:: 0.38 m (15″) 2 doors
See the other products
Michel Ferrand

contemporary wardrobe
GREY'S TALL
GREY'S is a series of multipurpose storage units in different sizes, fitted with doors, shelves and drawers.

... bedroom, our contemporary wardrobe finishes offer a sleek and understated visual. Able to blend with your existing decor or make a stylistic statement, a contemporary finish presents a fresh and edgy take on established ...
See the other products
Hanging Space

contemporary wardrobe
LAZY
Wooden furniture from collection "Eden" is available in the following finishes: - Lacquered oak; - Bleached oak; - Oak wenge; - Walnut.
See the other products
Heavens

contemporary wardrobe
DÉLICATE TONALITÉ
See the other products
PERENE

Door BASIC brushed oak lacquered white. Handle CORNER lacquered white dull. Sizes: W.3505 H.2577 D.615
See the other products
Morassutti Arredamenti

contemporary wardrobe
CHARLY

contemporary wardrobe
CREDENZA DULCAMARA by Aurelio Porro & Valerio Gaeti
Designed, carried out and displayed on the occasion of the cultural events organised by the magazine " Abitare il tempo" in Verona in 1991, inside the exhibition "Domestic Architecture: the Cupboard" (Architetture Domestiche: la Credenza) ...

contemporary wardrobe
ALEA
Aleatory is a term borrowed from music. It refers to compositions which permit a free style of playing within an aesthetic programme. Just as with this range of living room furnishings: a grid structure with differing widths, heights ...
See the other products
Kettnaker GmbH & Co. KG Möbel-Manufaktur

contemporary wardrobe
NEWEST
Solid oak frame with oak veneered chipboard,2 door DIMENSIONS60x107x198 FINISHINGOak

contemporary wardrobe
FULLDRESS : 01
"FULL DRESS" features multiple possibilities for customising furniture. With different door options, it offers a varied exterior, both in sizes and in finishings. Its interior, in high-quality melamine, finished with a textile design, ...
See the other products
A. Brito


contemporary wardrobe
MYSP by Federico Pepe
Storage forniture with 3 internal shelves and cut with 45° edges, black or white. Doors are protected by glass that guards the wallpaper designed by Federico Pepe. MySP is a "do it yourself" piece of design. A naked object whose doors ...
See the other products
EDITIONS MILANO

contemporary wardrobe
ENCAIX
Create your own furniture, combining the Cupboard with the Play area, the Chest and the Box shelf. Material Birch plywood Measures 100 x 50 x h70,5 cm
See the other products
Ergokids

wall-mounted wardrobe
CASPER SYSTEM.
A modern closing system that combines functionality and design. The hydrophobic flush-to-the-wall panels, with an MDF thickness of 20mm and the aluminum frame on three or four sides , allow different custom-made configurations . The Casper ...
See the other products
Gasperoni

contemporary wardrobe
RELEVO
See the other products
Casamagna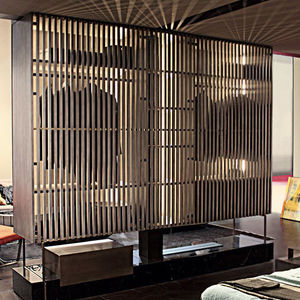 contemporary wardrobe
TAL
Finish T46 tinta noce on ash wood, light bronze metal inserts, bronze glass doors and shelves, base in C82 concrete bianco.
See the other products
Shake Design

traditional wardrobe
NASCONDIMI
CLOSET Wooden structure, fabric, metal and brass elements, sequins, berglass, trimming, nails and studs. Bronze knobs for external doors and inner drawers are handmade by Debora Bosoni, with lost-wax casting technique size: w 91 x d 46 | h 191

contemporary wardrobe
EMOTION
The Fimar wardrobes express the youthful and refined bedroom area with original, exclusive solutions like the pull-out lcd tv holder with adjustable structure for perfect viewing. Research-based design features go beautifully ...
See the other products
Fimar Srl