How to choose this product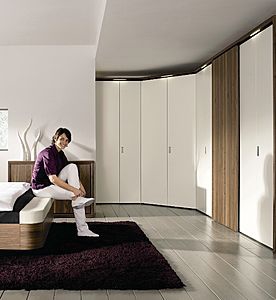 A wardrobe is a tall, closed piece of furniture with one or more doors for storing clothes on shelves or hanging from pegs or bars. ArchiExpo offers wardrobes in a variety of styles: period, contemporary, design, etc.
Applications
Wardrobes are usually placed against a bedroom wall, sometimes in the corner. Their numerous features can include a mirror, sliding hanging rack, shelves, drawers, tie rack, shirt organizer, shoe compartment, an interior light and wheels for easy moving. A television niche or bookshelves makes the wardrobe multi-functional. Some are incorporated into the headboard of a bed.
Technologies
Wardrobes are made of a variety of materials: wood (solid or laminate), glass, metal, etc. The finish may be veneer (precious wood, leather, etc.), paint or lacquer. Doors can be hinged, folding or sliding, and sometimes include a mirror.
How to choose
Choice will depend on storage needs, available space and the room's ambiance. A wardrobe may set the tone for a room. If it is too tall or too wide, it will make the room feel cramped. The goal should be an ensemble of furniture whose sizes and styles produce a harmonious whole.
Advantages
- Large storage capacity
- Organizational facility