How to choose this product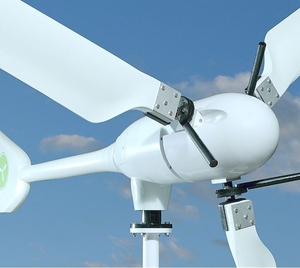 The wind turbine, mounted on a tower or pillar, transforms the wind's mechanical energy into electrical energy. The wind spins the turbine blades, rotating a shaft connected to a gearbox. The gears transmit increased rotational speed to a generator, which uses the electromagnetic principle to produce electricity.
Applications
These machines are often used to power telecommunications systems or isolated dwellings. They are frequently combined with photovoltaic panels in a complementary system of energy production. Turbines are increasingly used by individual households to reduce power expenditures and in wind farms to supply power to a grid.
Technologies
Such devices require a minimum wind velocity to operate and can be damaged by very high winds. The system includes a regulator, an inverter and, in some cases, battery storage. Both vertical and horizontal axis versions exist.
How to choose
Choice will depend on the initial investment, currently about 1200 euros per kW of installed power, and the power demand to be placed on the system.
Advantages
- Uses clean, renewable energy
- Does not produce greenhouse gases
Disadvantages
- Wind-dependent