How to choose this product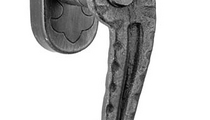 A window handle is a lever or knob whose activation opens, closes or locks the window. Some handles rotate to release the locking device. It may have a lock in the form of an integrated key cylinder. Hinged and sliding windows often have hand or finger pull handles.
Technologies
These devices come in many styles, colors and finishes, including metal, plastic and wood.
How to choose
Consider ease of installation on existing windows. Some have a simple pull handle, while others have an integrated finger pull to slide the window open or closed and to lock it. Locking systems should comply with local regulations and insurance restrictions, some of which require a three-point system.

Choose handle style in light of the surrounding decor. Models include modern, organic stainless steel designs, as well as more traditional decorative pieces.