How to choose this product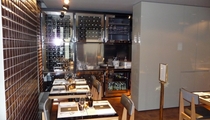 A wine cabinet is used to display, stock and/or chill the wine to the correct serving temperature. While some are simple wine racks, cupboards or display cases, others may have built-in refrigeration units with adjustable thermostats and digital displays, allowing wine to be stored at the correct temperature and easily monitored.
Applications
These items may be designed for domestic or commercial use. Those found in restaurants, bars or wineries are often glazed, allowing customers to be tempted by or browse the selection.
Technologies
Wine cabinets are available with a traditional solid wood finish or the more contemporary stainless steel, chrome and glass.
How to choose
When choosing a wine cabinet, consider where it will be situated, how many bottles and what types of wine will be stocked. If it must be refrigerated, decide whether the temperature of each unit requires individual control for stocking different types of wine. Energy efficiency, maintenance requirements and locking options are also important. It should be placed in a well-ventilated location.