How to choose this product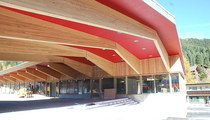 A wooden beam is made from a renewable resource offering particular visual and environmental qualities, including a wide range of forms and finishes. It may be used in structurally innovative building projects or to repair and/or replace damaged existing beams.
Technologies
Large solid wood beams offer resistance to fire and are often used to remodel traditional structures. Engineered products such as glulam beams have a higher strength-to-weight ratio, wide range of forms and resistance to insect infestation. They are made by joining smaller elements together into a unit capable of bridging wide spans.
How to choose
The suitability of the beam should be verified by a structural engineer. Ensure compliance with applicable building codes and regulations. Consider the beam's visibility and exposure to moisture, sunlight or other environmental conditions. Adequate protection must be provided.

Determine the environmental impact of its manufacture, transport and components such as glues or resins. Maintenance may require regular application of treatments or coatings to prevent insect infestation and rot, or to comply with regulations.