How to choose this product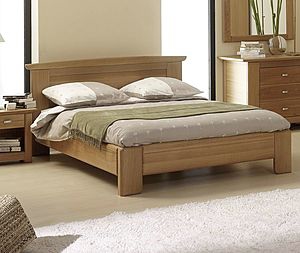 A wooden bed can be made from many different kinds of wood, in varying styles and with a wide range of features. ArchiExpo categorizes this furniture in several ways. Styles include traditional, modern, design and others. Sizes vary from crib to double beds and beyond. There are also specific characteristics, such as canopy and adjustable models.
Applications
Wood's inherent aesthetic qualities contribute to a warm, agreeable ambiance in the bedroom.
Technologies
Commonly used wood types include hardwoods, such as oak, beech, mountain ash, wild cherry, walnut and elm. There are also pine, fir, larch, spruce and other softwoods. Both solid wood and veneer construction is used. The latter consists of a thin sheet of fine wood glued over a core of plywood, MDF or pressboard.
How to choose
Choice will depend on aesthetics, sturdiness and comfort. Particular attention should be paid to the finish and its upkeep (varnish, oil, wax), since certain products can negatively affect health.
Advantages
- Made from a renewable resource