The Online Architecture and Design Exhibition

low filing cabinet
SHIFT by Norman Foster
... ® and are also finished in matt white. The Shift cabinet (190 x 53 cm, h 59 cm) is characterised by clean lines and shares the same powerful, expressive volumes and shapes as the table. The cabinet ...
See the other products
TECNO

... optional master key system. The storage range offers a flexible solution for both present and future filing needs. Featuring pull out filing frames for hanging files, both fixed and adjustable ...

low filing cabinet
MODU-LICIOUS
Drawers and doors are your canvas with the award-winning Modu-licious series. Choose from white, grey blue, red, ivory, slate and robin's egg blue power-coated steel drawers to create your own look. • Dovetailed birch ply drawer bodies • ...

Abre Collection is an advanced offering of modern, modular casegood furniture that addresses multifunctional needs in the total office landscape, bridging open plan, collaboration and private office environments. The collection offers ...
See the other products
TOUHY

low filing cabinet
MAINEDESIGN
Maine have the largest range of lateral files currently available, manufactured to exacting standards of engineering excellence, at their factory in the UK. Maine also have the ability to create internal configurations to satisfy any ...

low filing cabinet
TENDO by Juha Lätti
The Tendo sliding door cabinets are always a functional interior decoration solution. Thanks to the modular structure, the sliding door cabinets can be flexibly arranged into various heights and widths, ...

low filing cabinet
I/X by Anette Ponholzer and Fritz Frenkler
I/X Hi Tech's futuristic and dynamic design functionality and accessories help reflect the executive's character while adding brilliance to the work environment. Symbolizing technology, I/X Hi Tech presents a dynamic look with its ...
See the other products
Nurus

low filing cabinet
LACASSE : CONCEPT 300
An Outstanding Value If you are looking for durable furniture that combines both style and flexibility, but at highly competitive prices, then Concept 300 is the solution for you. Its timeless design and clean lines will give your decor ...
See the other products
Groupe Lacasse

cabinet with shutter made in solidAmerican cherry-wood. American walnutor oakr and veneered poplar plywood, 1 internernal shelf, hardware in satin nickelbrass. cm. L/W 53 - P/D 46 - H 108,5(excluded top) / cm. L/W 100 ...

low filing cabinet
S SERIES by System Design
Thanks to the wide range of carcase versions, the cabinets featured in this series can be used as filing cabinets or individual storage units in the office. Also available as an acoustically ...
See the other products
Ophelis

low filing cabinet
BIG by Pekka Toivola
The versatile Big cabinet is an independent storage unit and space divider, but can be used in larger groups, too. Because the sliding doors of the Big cabinet both save space and are quiet, the cabinet ...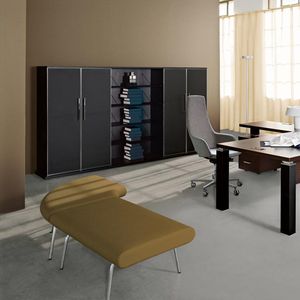 Strongly characterized by the squared volume of the legs, Tao introduces in the executive space eclectic emotions and feelings. Memory and contemporary, natural finishes and glass combine in a single work and living habitat. The space ...
See the other products
Sinetica Industries

low filing cabinet
CLASSWOOD
... collection. It offers the dimensions, colours, accessories and finishes to meet your needs. The cabinets, chests and bookcases are exclusively designed using wood from sustainably managed forests, creating ...
See the other products
Majencia

low filing cabinet
ACTA.CLASSIC
Systematic order. ACTA.CLASSIC The universal cupboard system ACTA.CLASSIC makes it possible to customise the storage for any office. The classic straight lines of the ACTA.CLASSIC design bring systematic order to any creative chaos. ...
See the other products
König Neurath

low filing cabinet
CUBIKO by Ivan Palmini
THE SQUARE, A SIMPLE AND PERFECT GEOMETRIC SHAPE. THIS IS THE ORIGIN OF CUBIKO, A COLLECTION OF EXECUTIVE DESKS DESIGNED TO INTERPRET THE WORKSPACE WITH A MODERN AND UNCONVENTIONAL VIEW, GIVING IT A STRONG PERSONALITY THANKS TO ITS EXCLUSIVE ...

tall filing cabinet
DV605
The DV605 series, a 46,5 cm thick storage wall system, emphasizes functionality and completeness for any office need. Different types of storage modules are provided. Their body is made of melamine and includes a predisposition for applying ...
See the other products
Della Valentina Office

low filing cabinet
LATERALFILE
Two filing drawers plus worktop is ideal for desk-height with levelling feet to ensure a consistent surface. Accessories can be ordered separately to ensure an efficient use of the space available. Available in 4 widths.Three ...
See the other products
BISLEY

low filing cabinet
STAKS by Pam Light & John Duffy
... scales flexibly to individual needs. We've added new options for soft, rounded surfaces to that vocabulary, including beautiful wood legs that evoke a sense of home in any setting.

low filing cabinet
MODULAR BOX by F. Mirenzi & V. Parigi
A range of stylish and refined cabinets ideal for fast, effective fIling in contemporary office. The configurations can vary: open cabinet, with solid or glass doors, or glass doors, ...

low filing cabinet
THIN BOX
... casing, while the precious grain pink ebony enrich the proportions. Sandblasted and lacquered glass together with the other wood veneers and finishings enable the Thin Box containers to combine perfectly with the Revo, ...
See the other products
Manerba

low filing cabinet
ISCUBE
High-end design and functionality in the officeWith their clear architectural design, the cabinets and sideboards of the iSCUBE cabinet system set standards for simplicity and order in ...
See the other products
Leuwico

low filing cabinet
PRIMO 1000 by Takiro Yuta
... accessoriabile, esteticamente elegante ed in grado di rendere l'ambiente più accogliente. Description Melamine Hinged Door Cabinets 1000×1330 mm from Primo 1000 Melamine Door collection Material Recyclable steel Door Hinged Door ...

Progressive and flexible office furniture selection. The combination of colours and wood surfaces give and opportunity for an informal work environment and a modern interior deco solution.

low filing cabinet
ARCHIMEDE by Filippon & Mirto Antonel
DescriptionContemporary design with work surfaces perpendicular to the supporting legs. Archimede is easy to visualize in a wide range of working environments.Floating layered top surfaces for an open airy feel with loop to angled legs.Sliding ...
See the other products
ALEA

low filing cabinet
LITHOS by Paolo Pampanoni
... Lithos allows combining them to obtain a significant range of choices.There are also different sizes available for desks, cabinets, service elements and drawer units. The desk surface can be extended with front and side ...
See the other products
Della Rovere