How to choose this product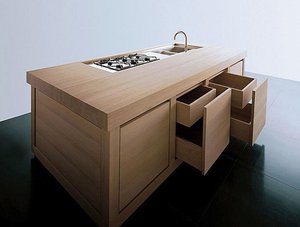 A wood kitchen has wooden cabinets, but counter tops can be of wood, concrete, Formica, granite or another stone.
Applications
The high cost of wooden kitchen components, especially those of solid wood, generally limits them to domestic use. Commercial kitchens are equipped with metal elements for reasons of economy, practicality, hygiene and ease of maintenance.
Technologies
Kitchen components can be of solid wood or wood veneer. The former often feature sturdy, durable, prestigious varieties. The latter use engineered wood products (e.g., MDF) with a veneer of high-quality wood, such as bamboo, ebony, oak, ash, beech or walnut.

- Oak is elegant, stylish and durable.
- Bamboo is very durable and grows quickly in clumps, making it easy to harvest in a sustainable manner.
- Pine is light beige to yellowish. Grain is the same color, but with dark tones, as well. It is light and soft, easy to work, plane and glue.

- Mahogany has a light pink to reddish cast, is light, easy to handle and offers a nice finish. However, it is subject to fungal growth.
- Teak is hard and of high quality, with honey tones. It is easy to work, dry and maintain, and contains a natural oil which makes it resistant to insects and rot.
- Wild cherry is pinkish brown and highly decorative. It is widely used in furniture making, especially for chairs and in luxury cabinet making.
How to choose
Choice will depend on budget and desired kitchen component configuration, either favoring straight lines or curves.
Advantages
- Diversity of styles
- Quality and sturdiness
Disadvantages
- Expensive