How to choose this product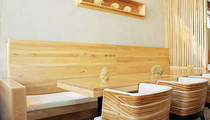 The term "wooden laminate" may be used to describe a decorative laminated board with an imitation wood finish. On ArchiExpo, these elements are arranged by properties such as use or finish.
Applications
Wooden laminates may be chosen over natural wood products for their uniform appearance, ease of maintenance and resistance to chemicals and staining.
Technologies
Such elements are made by fusing layers of material and a decorative finish with a thermosetting plastic, often melamine, producing a hard, durable surface. They are available in panels, sheets and interlocking planks, often used to facilitate the installation of floating floors.
How to choose
Consider ultimate use, e.g., for furniture or flooring. Ensure compliance with relevant regulations. Verify that the finish fits well with the surroundings. Determine ease of maintenance and resistance to scratching or abuse.
Advantages
- Easier to maintain than solid wood
- Less expensive
- Uniform surface
Disadvantages
- May contain volatile organic compounds
- Harder to repair than wood