The Online Architecture and Design Exhibition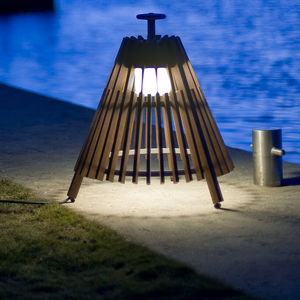 floor lamp
TIPI by Mårten & Gustav Cyrén
Material: Natural-colored teak with black lacquered aluminum details. Installation: For placement on ground indoor or outdoor. Connection: Delivered with black rubber cable 3x0,75 mm², length 5 m with earthed plug. Standard colour: ...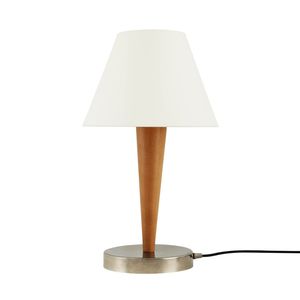 table lamp
PERTH : MLTL052
The Perth table lamp offers a sleek and sophisticated look. An empire lampshade rests on an elegant slender wooden frame secured to a brass base completing the table lamp's contemporary ...

pendant lamp
STRETCH by Amanda betz
... simple sphere but is designed as a three-dimensional wood construction. The delicate veneer profiles are stretched in two directions and combined with a fixture that holds the profiles in place as the lamp's ...
See the other products
Watt a Lamp

The Grow-It-Yourself Lamp combines the art of making with the power of nature in a truly sustainable fabrication process. Featuring Ecovative's patented Mushroom® Material technology, the Grow. Lamp ...
See the other products
Danielle Trofe Design

Experience nature with WOOD. Appealing and inviting with:  Warm material for a beautiful and comfortable home  Stylish wooden design for a natural overall image  Creative designs for unique places
See the other products
Brilliant

... totally today, thanks to a smart combo of powder-coated color with natural nickel accents. Tall and slim, our Versailles Table Lamp makes a strong statement without taking up too much space. The nickel finish suggests ...

White and wood structureWood lampshade 100% recycled 80% biodegradable
See the other products
Luxcambra

floor-standing lamp
PIN LIGHT by Oliver Bahr
Any number of poles can be inserted into a square formed base, creating a coat rack. Pin Coat's use varies from a rack for over-thrown clothes to a coat rack, where hangers are hung on the hooks of the poles. The various rod lengths allow ...

floor-standing lamp
P1020
Volume 0,15m3 Material Ash Measures 54x50x154 Packaging 135x13x13 3Kg

Flowers that float with serene composure, soft silhouettes and styles are wooden bases of the classic Chinese aesthetics. The designs in 4 colors made by hand making each of these complements for the furnishing and lighting ...
See the other products
Le Porcellane

table lamp
CUBIC 1930 by Jean-Michel & Adolphe Chanaux
DESCRIPTION Base in patinated steel, shade in alabaster. DIMENSIONS l.4 x w.4 x h.4.7 inch

table lamp
PUMÒ by Francesco Farina
Pine cone is a symbol from the architecture of classical antiquity and is still visible in Puglia above the balconies of ancient palaces.The shape of an opening bud is a symbol of new life , prosperity and fertility , in general a good ...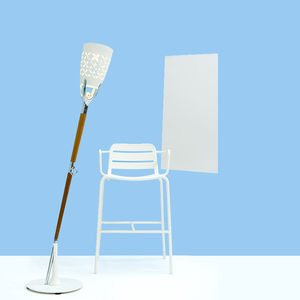 floor-standing lamp
PARADE TEAK by Maiori Design
La Lampe Parade is a solar powered garden lamp and beach torch built with teakwood and aluminium so it can stay pretty and active even in the most unforgiving and saline locations. For life, and for Living, illuminate ...
See the other products
Maiori

table lamp
AFRO by Eloy Puig
Table lamp with wengue body, lampshade available in any material, except BBO, BNQ, DMN, DMW.
See the other products
EL TORRENT IL.LUMINACIO

pendant lamp
KERFLIGHTS: SELWYN
... is precision built to accommodate any situation. Powder coated steel frames provide a distinct shape and character for each lamp, while the unique kerf pattern of the shade panels cast intriguing patterns onto walls and ...
See the other products
graypants

pendant lamp
ARENELLA : 32437 , 32439
Article: 32437Lighting Type: pendant luminaireCollection: TrendEAN Code:9002759324377 Material & ColourEnclosure Material: plasticEnclosure Colour: whiteGlass / Shade Material: woodGlass / Shade Colour: natural
See the other products
EGLO Leuchten GmbH

table lamp
NORDICA II by Santolaria & Llusca
... with new lamps expanding its usability . On one side are the pendants of 3 and 5 shades, complete the offer of ceiling providing a greater volume, and can be used both to provide general light as to place them on a dining ...
See the other products
Mantra

floor-standing lamp
PLUG by Tomas Kral
Project based on the relationship between a bottle and its cork stopper. A connection between two materials, glass and cork, through the principle of fitting together. A relationship of opposites: glass is hard, heavy, shiny and cold, ...

pendant lamp
TERHO by Maija Puoskari | FI
... is timeless. The wood is FSC certified from responsible European forestry and the glass is mouth-blown in Portugal.DesignMaija Puoskari | FIMaterialMouth-blown white opal glass and FSC linden wood OriginOpal ...
See the other products
Mater Design

... and brass pulley suspension systembulb holders1x E14 (EU/UK), E12 (USA), screw fittingbulb not suppliedwattageup to 8.5 watt LED golf ball (hotter bulbs not recommended)flex/wiringnatural textile flexinstallationbrass ...
See the other products
OCHRE

floor-standing lamp
1M LICHT by Roel Vandebeek
... Vandebeek are always thoughtful and timeless. With 1M LIGHT, he has designed an original and surprising lamp with a touch of humour for MOOME. The wooden frame, inspired by an old measuring stick, houses ...

Dimensions: 1.13 m x 0.54 m x 1.87 m Materials: Natural Patagonian wood with matt, 100% non- toxic polyurethane finish. Shade: Tyvek® Color: Natural wood. Shade: white Shipping: krethaus@krethaus.com

Real walnut veneer on shiny diamond. Handcrafted in Berlin. Fabric cable comes in different colors.
See the other products
NUTSANDWOODS

floor lamp
CUBE by Massimiliano Raggi
... it becomes the protagonist of the contemporary interior design through precise and glamorous lines. Very elegantly finished wood for the body and a glass shade for a softly diffused light.
See the other products
Contardi

table lamp
BALLET by Marco Sousa
... finest woods, forming the foot of the lamp. In the abajour we have the piece that brings balance: so is the ballet, the position of the dancer's hands and arms brings balance and subtlety to the movements. The whole lamp ...