The Online Architecture and Design Exhibition

table lamp
LUNE by Sverre Uhnger
The Lune Lamp shows the new direction for Brdr. Krüger: one of creating new and bold contemporary design icons with an international outlook that perfectly reflects the company's passion for wood and ...
See the other products
Brdr. Krüger

See the other products
Tunto

See the other products
wa. De. Be.

Description A hand turned oak tray and curved brass arm lamp. Clamps onto any overhanging surface with a mild steel clamp and oak handle. Fits an E27 bulb. A 2m cable and three prong plug. Bulbs not included.
See the other products
Studio 19

floor-standing lamp
TANK by Cédric Ragot
IP65 Class II E27-60W max. Opal polypropylene diffuser Retified wood, sandblasted stainless steel
See the other products
Artuce

B612 Bois Composition : bois/métal, avec socle métal pour la version à poser Dimension : diamètre 51 cm Cons. : < 60 w Temp. : 2 700°k Source : 3 300 lumens _B612 Métal Composition : métal, avec socle métal pour la version à poser Colorss ...
See the other products
BURSZTYN

pendant lamp
DIPPER by Viewport studio
... form a table lamp and floor lamp. Dimensions Small H. 340 Ø. 390mm / H. 13.4 Ø. 15.3" Large H. 340 Ø. 550mm / H. 13.4 Ø. 21.6" Finish Maple or European Walnut shade with black or white fitting Light ...
See the other products
Decode


... this historical moment. The highest part of the lamp was inspired by the tactic used in the Aljubarrota's battle, this military tactic, which became know as the "Square Tactic" visible at the top of the lamp ...

table lamp
lampe de table MOB
... universe of wooden elements and beige cable. An innovative and effective design that gives a strong personality to the product! Bulb (LED or halogen) included. The LED bulb can be replaced. Made in ...

table lamp
COMPANION by SmithMatthias
L. 220 mm -W. 220 mm -H. 650 mm -Weight: 1.7 kg Innovative, articulated lamp in ash tree wood and metal details. Basic structure and animated look make it an ideal desk companion, enjoyable and likeable!

See the other products
EGG DESIGNS

pendant lamp
WOODLIGHT by Alain Monnens
Wood is one of the basic materials in the Wildspirit collection. It is a rather unusual choice to use wood as a raw material within the lighting industry, but it is our goal to offer an alternative to ...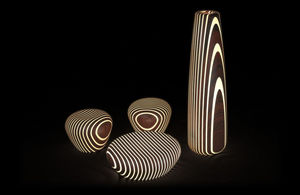 floor lamp
by Giancarlo Zema
... and natural materials such as wood scratched by a flurry of resin rings that light up with LED technology and an RGB colour-changing effect. A collection with a table, chair, coffee table, pouf, floor ...

floor-standing lamp
VITTORIA by Luca Pegolo
Floor lamp characterized by a long arm that integrates LED stripes both both upwards and downwards, in order to select the most suitable mode of lightning. Made of solid walnut and a base with concrete finishing.
See the other products
Bdm s.r.l.

pendant lamp
BRANCH TRIPLE : BR-C31
... fixture is available in a variety of configurations and warm colors. Materials Steel, aluminum, plywood Lamping 30W LED Specs LED 600 Lumens (delivered) 2700K, min 80 CRI 100-120V Input 60Hz 220-240V ...

table lamp
INFINITO by Equipo Propio
... is characterized by his functional versatility and his elegance. This is a version inspired on the Nordic design using the wood to add warmth and making an harmonious atmosphere in residential and labor environments. ...
See the other products
Massmi Iluminación

floor-standing lamp
INGRID by Michael Graves
See the other products
Sawaya & Moroni

floor-standing lamp
MRT705001
Floor lamp 379,50 € tax incl. Reference: MRT705001 Dimension 156,5 CM Kind of material Bois sales unit Pièce Design comingB

Using the same care and attention to detail that we apply to our furniture, we offer our clients the opportunity to create custom sized and scaled light fixtures made to museum quality, historical designs. Working from your supplied specifications, ...

floor-standing lamp
LAMPADAIRE

We can work with you on lighting from concept to completion, and the relationship between light, space and furniture is something we understand. We create bespoke lighting with shapes and finishes that reflect light in a considered way, ...

table lamp
VIRGULE by Thierry Dreyfus
... , a movement, a breath, a comma... the essential." Thierry Dreyfus The light slides over this elegant form thanks to hidden LED which are reflected in cedar wood, marble, alabaster, onyx or brass... A different light ...
See the other products
Atelier Courbet


Please welcome the brand new edition of our multifunctional decorative lamp. Lighter, slimmer and offering even more possibilities – that's the enchanced LAMPANIA. Made of two sliding aluminium modules, it allows you ...