The Online Architecture and Design Exhibition

Nickel, brown. Ø 30 cm 35x30 lampshade 3 x E27 60W max.
See the other products
raco ambient s.l.

table lamp
BLINKY by William Pianta
"Full volume" noble materials for the model Blinky
See the other products
nahoor

... and may be stained darker if required. DIMENSIONS H: 43cm/17″ | W: 9cm/4.5″ With shade: H: 63cm/25″ | W: 30cm/12″ WOOD FINISH Mahogany, Walnut, Custom METAL FINISH Distressed Brass, Brushed Brass, Polished ...
See the other products
best&lloyd

floor-standing lamp
KULA-2
The "Kula" is our recreation of a tower floor lamp. It is neat and sexy, isn't it? And it still inhabits this industrial style we love! SIZE & SPECS - Height: (without the shade) 140cm/56"; (total with shade) 180cm/72"; - ...
See the other products
Paladim Handmade

floor-standing lamp
WOODTABLE by Fernando & Humberto Campana
... standing/table lamp with solid teak and stainless steel structure. Lampshade can be adjusted in 2 position. Wires hidden by a PMMA tube, making in suitable for outdoor use also. Floor Lamp Dimensions: ...
See the other products
SKITSCH

table lamp
PARAMOUNT : 9500.1
... honored everyone under contract with a star on the logo. Inspired by this daring company arise the Paramount unique table lamp which features sleek gold plated brass tubes and an emperador marble square base, making ...

table lamp
TWIST by David Rockwell
Side Table / Lamp Designer: David Rockwell Material: Metal h 17,5'' ⌀ 16,75'' h 44,5 cm. ⌀ 42,5 cm. David says: Representing a new typology in lighting, the Twist is a side table, stool, and light source simultaneously. ...

pendant lamp
KONKRET by Jonas Edvard
... 230V Description Black toned ashwood veneer. Leather strap. Black textile cord Connection Ceiling socket Light source 1x 7W LED E27

floor-standing lamp
BILLY BL ILSE CRAWFORD EDITION
... lise Crawford for Kalmar Werkstàtten. Crawford adds sophistication, humility and warmth to the utilitarian design of the floor lamp. In the variation, a rosewood stem standing on satin-brass feet replaces the unstained ...
See the other products
Kalmar Werkstaetten

... surrounding an acrylic inner diffuser. Panel finishes include wood veneer, brushed or grinder finish aluminum, or painted. A bottom eggcrate louver reduces glare. Incandescent or energy saving LED or ...

The rectangular pendant lamp [C3o]stainless steel is made out of one piece of oak wood. It combines modern stainless steel with noble oak wood into a timeless and elegant designer lamp. ...
See the other products
GantLights

table lamp
FORMAKAMI JH18
... hand craftsmanship give the iconic Asian lantern a contemporary twist with the Formakami table lamp by Jaime Hayon. The result is an ambient light in a lamp where the design itself appears light. It's ...
See the other products
Andtradition

LED lighting system with switch for touch dimmer/light intensity variator Rechargeable battery by USB, replaceable at the end of life Duration of the charge up to 5 /24 hours Charging time approximately 5 hours Led ...
See the other products
Kriladesign

floor-standing lamp
DALTON by Mathilde Liu
Item Code:#M582Bw Material:Reclaimed Pine Wood/Red Copper Finish:Black Wire Socket:E27/80Watt Width:190 cm Depth:52 cm Height:220 cm Cable Length:350 cm Shade Size:45x45x45 Nett Weight:66.5 kg Volume:0.57 m3 Item Code:#M582Aw Material:Reclaimed ...
See the other products
V-LAB

Formed by boomerang-shaped wooden panels that rotate in a full circle, Big is a pendant lamp, which can easily be mistaken for a sculpture hanging from the ceiling. The neon bulb at the core of the lamp ...
See the other products
Autoban

Big Chantilly table lamp.Use a CFL energy saving. E27 - 13W max. warm White Plywood oak and recycled polypropylene Diameter (cm) : 47 x H. 65 cm The Chantilly lamps by Constance Guisset create complex ...

pendant lamp
EMPEROR by Neri & Hu
Once upon a time an Asian emperor received as a gift a nightingale. The charming bird sang so beautifully that the emperor always wanted it by his side. He placed the nightingale a majestic hand woven bamboo cage in the imperial chambers ...
See the other products
moooi

floor lamp
COMETA by T. Colzani
Floor lamp in solid canaletta walnut or ash and tin-plated shade
See the other products
Porada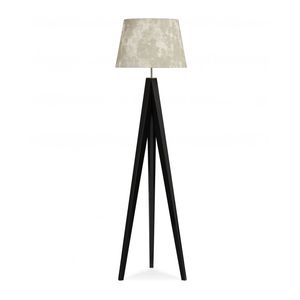 FLOOR LAMP WITH A BASE EQUIPPED WITH 3 LEGS IN VINTAGE BROWN OAK OR BLACK MAPLE WOOD, WITH MATCHING METAL DETAILS. THE PARTICULAR AND COMPLEX MANUFACTU- RING OF THE WOODEN LEGS REINTERPRETS THE CLASSIC ...
See the other products
Giorgio Armani Casa

... Linen shade • 80" cloth-covered cord • Light switch located on socket • Maximum wattage 100W or an equivalent CFL or LED bulb • Ships fully assembled
See the other products
BLU DOT

floor-standing lamp
JE SUIS
Je Suis is an eccentric lamp designed by Carlo Colombo. It is available as both floor and table lamp. The base is available in oak, stained anthracite wood or Carrara white marble. Shade ...
See the other products
PENTA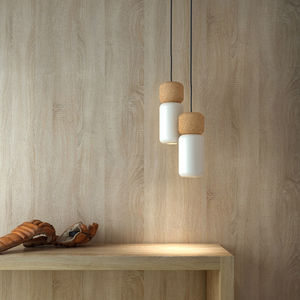 pendant lamp
PILA : T-3555 by Francesc Crous & Alessandro Calogero
Pendant made of aluminium and cork. Textile cable. T-3555-W LED 10W (2700K / Ang. 120º / >80 CRI ) 230V / Typ* 850 lumens / Dimmable Triac
See the other products
ESTILUZ

pendant lamp
LEAF: LEA28P by Marit Stigsdotter & Staffan Lind
Total height: 280mm Diameter: 360 mm Flex: Textile; choose between black, green, red, yellow, turquoise and white. Bulb: 75w E27

pendant lamp
OH MAN, IT'S A RAY!
Oh Man, it's a Ray! is both a mobile and a chandelier. Made from simple, natural materials, wooden parts in the shape of coat-hangers and incandescent bulbs, it is an airy and playful, yet impressive object. Oh Man, it's ...

Sizes (cm)Total height: 49 Width: 61 QualityRattan + halogen lamp 125mm, 42W, socket E27, 2000h, 2900 K
See the other products
VINCENT SHEPPARD