The Online Architecture and Design Exhibition

floor-standing lamp
SC1011 by Luca Scacchetti
Standard lamp with bronzed brass fittings and Murano glass diffuser. Rosewood, Ebony, Wengè, Citronier or black lacquered wood finish. Cm Ø30x216 h

floor lamp
DIVA by Peter Natedal & Thomas Kalvatn Egset
Christened with a name often given to extravagant personalities, this set of bent plywood pendant lamps has a lot to live up to. Like others who share the name, Diva takes centre stage. When suspended from the ceiling, ...
See the other products
Northern

The table lamp COCO is a creation in solid cork. Its rounded cork structure merges with an incandescent bulb diffusing a soft and warm light. It can easily be placed on a bedside in the bedroom or in the living room.H: ...
See the other products
KOSKA

... line. Designed to completely conceal the bulb, the spherical form of this wooden pendant light is made up from steam bent strips of sustainably sourced ash, oak or walnut wood and held by laser cut birch ...
See the other products
Tom Raffield

desk lamp
GRAVY by Kenneth Ng & Edmund Ng
Gravy Desk Lamp is a unique desk lamp that brings style and warmth to your home or office. Edge lit technology in a circular LED head provides a soft, evenly distributed glow of warm ...

floor-standing lamp
SHIFT by Ruđer Novak-Mikulić & Marija Ružić
... for the socket E27 (L and M lamp): energy saving 2x23W or led bulb 2x12W Recommended bulbs for the socket E14(S lamp):led bulb 1x5W Protection class: I Protection level: IP44 Socket: ...
See the other products
Artisan Solid Wood Furniture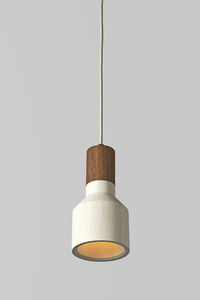 ... Oregon.Dimensions: 110mm D x 230mm H2m fabric cord (cream or black)Powder coated ceiling rose (white or black)E27 screw-in lamp holder$475 ea (Globe & postage not included)Recommended Globe: Phillips 25W E27 screw-in ...
See the other products
INKSTER MAKEN

pendant lamp
ALMA by Meeri Särkkä
... starting point for the design of the lamp also: Särkkä wanted a lamp that has multiple uses. The lamp is named after its shape, which resembles a bag ('kassialma' is Finnish for a bag ...
See the other products
Innolux

The WAaF lamp is a devoted co-worker. It will help you and keep you company all night long while working on projects. You can even give it orders : "Seat!", "Lie Down!" or even "Fetch the ball!". Agile on 4 but also ...
See the other products
Structures

The Radiant incorporates Bamboo Veneer to shade the lamp and provide a subtle warm glow. Hand-finished in Cape Town, each piece is made using sustainable birch plywood and bamboo veneer. All pieces are available in 'easy ...
See the other products
minima

pendant lamp
EIKON : BASIC
... by certified wood of ash, oak or bamboo constitutes the base of the lamp. The metal shade, which is attached with magnets, and the textile cables are available in many vibrant colors. Due to the removable, ...
See the other products
Schneid

See the other products
limelo design

Who invented the tripod base for the shaded lamp? Give the man a medal. We love it! But you probably noticed that, because we have designed a series of very elegant tripod floor lamps. And with this newest ...
See the other products
Zuiver

pendant lamp
HAVAS 50 by Tuukka Halonen
HAVAS is a do-it-yourself lamp and comes in a flat box with assembly instructions. The plywood lamp constructs itself of tens on birch plywood slats, which will be joint together to form an intelligent ...
See the other products
Dydell

... – IRON ALUMINIUM – GOLD Sizes: d40 x h24 cm (all materials) d58 x h28 cm (all materials) d73 x h33 cm (all wood veneers) d100 x h40 cm (only birch)
See the other products
Tom Rossau

This elegant hardwood pendant is brimming withcharacter and durability. Designed to celebrateits constituent materials with a unique, elegant form,it complements a variety of bulb types and interiors
See the other products
Tala

table lamp
MCE by Note Studio
Set of decorative atmospheric lightsGlass globes on a wooden frame, inspired by the optical illusions by M.C.EscherAvailable in 3 sizes and different colors Design: Note StudioUse: IndoorMaterials: Oiled Oak or Walnut, Coloured Glass
See the other products
Per/Use

pendant lamp
FLY ME by Pinar Yar Govsa
Dimensions : H30 / W2 / L33 CM Materials : Birch Plywood, Water Based Paint Input : 220V – 240V AC 6W
See the other products
LIL GAEA

pendant lamp
TUBE by Mariana Costa e Silva
... pendant lamp in natural beech wood and clear glass. MS.PD.013.M Medium pendant lamp in natural oak wood and smoked glass. MS.PD.012.S Small pendant lamp ...
See the other products
Pura Mestria

... row, the more flowing and ductile the shape will be. The 72 Golden ratio rhombus that form the basis of the lattice for the lamp determine the flow and plasticity of the shape. Many sacral buildings have a similar bionic ...
See the other products
Borealis LLC

Introducing the Giant Lotus Pendant, a flowing light created in lux wood veneer. The Giant Lotus Pendant is available in White Linen, Maple, Cherry, Wenge, Birch, Zebrawood or any of our twenty veneers. Ready to hang ...
See the other products
Lampa

... charming 2-D LED lamp that offers an artistic interpretation of the traditional light bulb. Each lamp is made from a thin sheet of acrylic glass that has been laser engraved to create ...
See the other products
Studio Cheha

IBIS LED Table lamp Design: Domus Team H 35 cm, B 50 cm
See the other products
DOMUS Licht zum Wohnen

Adjustable height, fabric electric cord with magnets. Solid oak base  (optional) Lacquered metal structure with black matte finish. Size : Height: 38 to 55 cm. Width: 20 cm. Length: 20 cm. Marble of European origin. Made by hand in Europe.
See the other products
RADAR

floor-standing lamp
ZÉ by Hugo Silva and Joana Santos
Zé is a playful floor lamp with hanger brimming with character. The simplified form combines a lamp, a shelf and two hangers. So, Zé is an object to light a space, producing an intimatt atmosphere, and ...
See the other products
Dam